If you click a link with an * to go through to a provider, we may get paid. This usually only happens if you get a product from it. This is what funds our team of journalists, and keeps us free to use. Yet there are two crucial things you need to know about this.
This never impacts our editorial recommendations – if it's in, it's in there because we independently rate it best.
You'll always get as good a deal (or better) than if you went direct.
For a more detailed explanation see How MSE is financed.
Making a claim on your car insurance
You've just been in a car accident, or discovered damage to your vehicle – it can be an anxious and stressful time. And it isn't always easy to focus the mind, so to help, in this short guide we explain all you need to know about making a car insurance claim, from the initial incident through to any eventual repair.
How do I make a car insurance claim?
Everyone needs car insurance in place to be able to drive legally on the roads. But, thankfully, not everyone will end up having to make a claim on their cover, whether due to an accident, damage, fire or theft of their vehicle.
But if you do find yourself having to put in a claim on your car insurance, here we talk you through the entire process, starting with what to do immediately after the event.
What to do at the scene of an accident
Having a car accident – no matter the severity – can be an incredibly stressful time, and can throw up a mixture of emotions in the moment.
This can affect your judgement, so to help crystallise your thinking, here's an action plan to help when you're at the scene of an accident. Much of this applies to other claims too, such as for damage.
We're working on the assumption here that no one has been injured, but if someone does need medical help, phone 999 as soon as possible.
Firstly, ensure you and any passengers are in a safe place, away from the road and any other vehicles, and remain there.


While it might sometimes feel natural to want to apologise to other drivers involved, even if you weren't at fault, it's important not to accept responsibility or to say sorry. Apologising can suggest that you were at fault, when you might not have been.


Take photos of any damage to vehicles or any property. It would be worth capturing the vehicles' registration numbers, too.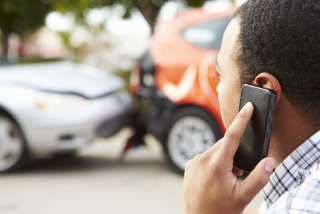 Try to photograph how the cars are positioned before they get moved. Remember to keep yourself safe whenever near a road.


Once safe to do so, exchange details with the other person or people involved, and/or the property owner.
To make any claim on your car cover as smooth as possible, here's some important information that you'll need to provide to your insurer about anyone else involved in the incident:
Vehicle registration number (with the make, model and colour)


Name of the other driver(s)


Address of the other driver(s)


Insurance details (such as name of insurer and policy number, if possible)


Do make a note of where it happened, such as the road name, time and date. Even a description of the driver may help, if they weren't included in your pictures.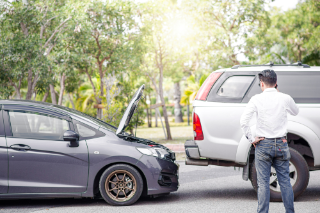 It can be useful, before you leave the scene, to make a note describing what happened, where you were heading to/from, whether any vehicles involved were stationary, what the road conditions were like (dry, wet, icy) and the weather at the time (sunny, overcast, raining).
If a witness comes forward, do try to get their name, address and telephone number (if possible).
And if your car is severely damaged, meaning it is no longer safe to drive, try to leave it in a safe place. Then try to get hold of your insurance company ASAP which will usually be able to arrange for your vehicle to be recovered.
This can often come to light after you've left the scene of an accident – finding out it's involved another driver who wasn't insured. It can be disheartening, but how your insurer will deal with the claim depends on the level of cover you have.
If you have comprehensive cover, a claim for an incident with an uninsured driver via your insurance company is possible. Fortunately, many insurers have improved how they deal with this scenario, so your provider may not reduce your no-claims discount, or even request the excess be paid if your policy comes with the benefit usually called 'uninsured driver promise'.
If your policy doesn't come with the 'uninsured driver promise' benefit, you can still claim but any recovery of your uninsured losses, such as the excess, will be slow and difficult.
If you don't have comprehensive cover, you will need to seek assistance from the MIB (Motor Insurers' Bureau). It works with insurance companies and the police to help support people affected by uninsured drivers, and untraced vehicles, and possibly get them some compensation.
If you have any suspicion the driver may be uninsured, contact your insurer in the first instance. However, in some situations you may need to contact the police, depending on the circumstances of the incident.
Contact your car insurer ASAP
Once you are safely home, do pull out your insurance documents, including contact details for your provider, and double-check the type of cover you have. This will have an impact on whether or not you'll be able to claim, depending on the circumstances of the incident.
If you're able to make a claim, do check:
The excess (the amount you pay towards the repair costs of your car)


Whether you qualify for a courtesy car (the type of car will also depend)


Whether you have legal expenses cover (this is useful as it's there to help with uninsured losses, such as your excess, and personal injury claims and so on, if they believe there is a chance of a recovery)

Get in touch with the insurance company as soon as you can, but ensure you have all the information you've gathered to hand, plus the following:
The claims helpline number of your insurance company (this can be found within your policy document or on the insurer's website)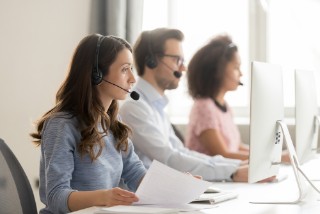 Your

policy number




Your car registration number



Details

of the incident, and any other people involved
This information will help to trace your policy.
When you contact the insurer, it will try to find out full details about what happened, and ask for much of the information that we cover earlier on in this guide.

The provider will then begin to investigate the claim based on the details of the incident. It will then set about arranging for your vehicle to be repaired or preparing a 'write-off' offer if it is deemed not cost-effective to repair.
Whether it's worth putting in a claim with your insurance provider will depend entirely on the amount of damage to your vehicle, and the cost of putting that damage right.

For example, if it's a tiny scrape to your wing mirror against the garden gate, it may not be worth it – as the cost to repair may be a lot less than the policy excess, which you'd have to pay as part of a claim. But if it was heavy impact damage, and the repair cost significantly exceeded the excess, then you should definitely consider a claim.
In short, if the incident was just you (no one else involved), and any damage was very minor and will not cost more than the excess to put right, this is when it may be better not to claim, and to foot the bill yourself.

Finally, whether you decide to claim or not, all accidents need to be declared to your insurer (see more on this below).
Making a claim, or even declaring an accident, is likely to affect the cost of your insurance in future, but by how much depends on a number of factors.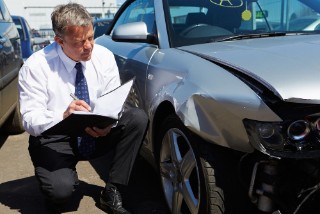 You will usually see your no-claims discount reduced in the event of a claim – unless you've protected it using an optional policy add-on – and this can mean your premium increases significantly. But if the accident was not your fault, and you have recovered your uninsured losses, and your insurer has got its costs back, your no-claims bonus will be reinstated and will soften any premium change.
As we always say at MoneySavingExpert.com, always get alternative quotes to see if you can beat your renewal premium. For more on finding yourself some cheap cover for your wheels, see our full Cheap car insurance guide.
This is a big YES.

As part of your agreement with the insurer, you must tell it of any incident you are involved in where your vehicle – or someone else's vehicle/property – gets damaged, or you suffer a loss.
This still applies even if you are not going to make a claim, as this is likely to play a part in the insurer's price calculation when it comes to renewal time.
How long does the claims process take?
The speed and process to repair vehicles has significantly improved over time, and if you have comprehensive cover, you can usually be informed within days of submitting a claim of a date to drop your vehicle off at an insurer-approved garage.

The challenge in recent times has been how long it takes to get the parts to repair the vehicles, though the garage would be able to let you know of the time frame and any delays.

If you don't have comprehensive cover, it is likely to be a slow process of months, rather than weeks, to get the vehicle repaired, if you are relying on the other insurer to pay.
Who will repair my car?
If you have comprehensive cover, and your car won't cost most than it's worth to be repaired, the insurer will share your details with a local approved garage. It may be that you have the car inspected, or booked in for repair.
While your vehicle is in for repairs, you may qualify for a courtesy car. The type of courtesy car will depend on whether you have the upgraded extension of a 'similar' car to your damaged car, or else it may be just what they have available.
Finally, when your car is repaired, you will need to pay the excess – whether it was your fault or not – to the garage when you are happy with the repair. Depending on the circumstances of the accident, you may then be able to recover the excess from the other person involved, and this is usually done through a legal expenses add-on to your policy (if you've chosen to have this when you purchased or renewed the policy).
Alternatively, if you don't have legal expenses cover, you are able to contact the third-party insurer to seek recovery.
For more info on some of the other optional add-ons available, such as legal costs cover and protected no-claims bonus, see our main car insurance guide.
How to complain about your insurer
The insurance industry doesn't always have the best customer-service reputation, and while a provider may be good for some, it can be hell for others.
Common problems can include claims not being paid out on time, or at all. It's always worth trying to call your provider first to try to resolve the issue, but, if not, you can use free complaints tool Resolver.
The tool helps you manage your complaint, and if the company doesn't play ball, it also helps you escalate your complaint to the free Financial Ombudsman Service.
It won't necessarily speed up the process of resolving your claim but it does simplify things should you decide to take this route.
Cheap car insurance tips
We've a whole host of car insurance top tips and tricks to get cheap cover. Below is a quick round-up of where we'd suggest you head to to find out more.
Suggestions for you
Have your say in our forum!