If you click a link with an * to go through to a provider, we may get paid. This usually only happens if you get a product from it. This is what funds our team of journalists, and keeps us free to use. Yet there are two crucial things you need to know about this.
This never impacts our editorial recommendations – if it's in, it's in there because we independently rate it best.
You'll always get as good a deal (or better) than if you went direct.
For a more detailed explanation see How MSE is financed.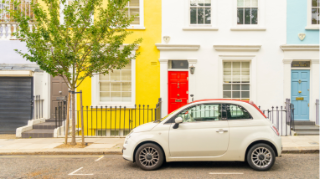 Types of car insurance
Fully comprehensive and third-party cover explained
Every driver must have a valid car insurance policy for the car they're driving – that part's clear. Yet there are three main types to choose from, which can complicate your decision. This short guide explains the differences so you can decide which is best for you.
What are the different types of car insurance?
Car insurance is a legal requirement, so all drivers must have a policy in place. Yet the type you opt for is down to you.
There are many factors that will affect how much you pay for your policy, and our full guide to cheap car insurance covers them in more detail. But if you're looking for a quick guide that explains the three main types of car insurance then read on – we've summarised the main three below...

Reason to claim

Type of policy and what it typically covers
Third party
Third party, fire and theft
Fully comprehensive
You cause damage to another person's car or property

You injure another person
Your car is damaged due to fire
Your car is stolen
Your car is damaged by an accident you caused
You're injured by an accident you caused
This is the most basic policy and provides cover should you injure anyone or damage their car or property following a road accident. However, you won't be able to claim for any repairs to, or the replacement of, your own car – or for any injury caused to yourself.
Third-party, fire and theft insurance
As above, plus you'll be able to claim if your car is damaged or written off following a fire, or if your car is stolen. Though again, you won't be covered for any of the costs of repairing or replacing your own car or if you're injured.
Fully comprehensive insurance
Often referred to as 'fully comp', you get third-party, fire and theft cover as above, plus if you caused an accident you can claim for costs of repair or replacing your car.
The name can be slightly misleading though, as no insurance policy covers every scenario, so always check the terms and policy wording carefully before signing up. For example, 'theft' might include items inside your car as well as the car itself, but only if you purchase an optional extra.
What's the cheapest type of policy?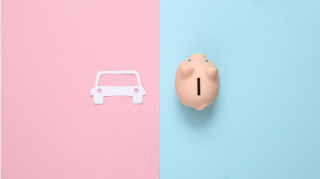 This isn't an easy question to answer, as there's no one-size-fits-all rule. The cost of car insurance is calculated by each insurer based on many factors, all to work out how much of a risk it thinks you are.
The riskier you appear, the more likely the insurer thinks you'll be to make a claim – which it will then have to fork out to pay. For example, a driver who has caused two accidents in the last three years and has an expensive, fast car will typically pay more than someone who can prove they've been accident-free for years and drives a smaller runaround.
The type of policy you choose will also affect the price. You might expect third-party insurance to work out the cheapest (as it offers the lowest level of cover) – but car insurance isn't always that straightforward. In fact, choosing fully comprehensive insurance can be seen by certain insurers as the more responsible, lower-risk option, so you could find it's cheaper than opting for third-party.
The only way to know for sure is to use trial and error when getting quotes: get a quote for third-party, then third-party, fire and theft and finally fully comprehensive. You can then see which is cheapest and, if it's not fully comp, which level suits you the best.
All policies have an excess you'll need to pay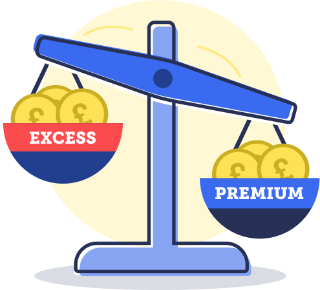 When buying a policy, you'll need to select the amount you'd be willing to contribute in the event of a claim – known as the voluntary excess. For example, if you set your excess as £400 and your car was later damaged in an accident and a garage had quoted £1,500 to repair it, you'd pay the first £400 with your insurer covering the rest.
Choosing a high voluntary excess will usually mean cheaper prices, as it could indicate that you're someone who is less likely to claim (or if you do then the insurer has less to pay).
However, remember that if you do need to claim, you'll need to be able to come up with the cash to pay it. It's also worth noting that some insurers have compulsory excesses in addition to the voluntary one you've set. So using the example above, a policy with a £250 compulsory excess plus a £400 voluntary excess would set you back £650 per claim (if your claim is for a lower amount than that you'll be better off paying the bill yourself).
Extras you can add to your car insurance policy
There are a number of extras you can usually add on to your policy, though each one would cost you (unless the policy bundles any together or includes them as standard).
Courtesy car cover. Following an accident, this provides you with a car to use while your own is being repaired. It's always worth checking the terms and conditions to see what sort of car you might get, if there's any limit on how long you could keep it, and if it covers you if your car's written off or stolen.


Breakdown cover. This lets you bundle in a breakdown policy to the cost of your car insurance, so you'll be able to call out a professional if your car develops a fault and breaks down. However, always check the level of cover you're getting and if it's cheaper to just buy your own policy direct (see our Cheap car breakdown guide for full help).


Protected no-claims discount. If you have a policy for a year and don't claim, you'll earn a 'no-claims discount', and one more for every year you don't claim after that. The more you have, the larger the discount the insurer will give.

However, make a claim and you've lost it. Protecting your no claims therefore exists to allow you make a claim and not lose your discount next time you renew (if you stay with your existing insurer). However, do note that protecting your no-claims discount does NOT guarantee your premium won't go up, and you'll still need to declare any claims to new insurers if you decide to switch.


Legal costs cover. If you were in an accident that wasn't your fault, this is designed to cover the costs you might incur by taking legal action against the other driver to reclaim losses that are not already covered, such as a loss of earnings.


Key cover. If your keys are lost or stolen, this covers the cost of new keys. Though if you have a car breakdown policy, always check if you're already covered for this.
Cheap car insurance tips
We've a whole host of car insurance top tips and tricks to get cheap cover. Below is a quick round-up of where we'd suggest you head to next...
For all the latest deals, guides and loopholes simply sign up today – it's spam-free!