How to cancel a phone contract
Find out if you can get out of your mobile phone contract and what to look out for
If you're mid-contract and your contract is no longer suitable or the signal quality is disappointing, we've got you covered. We'll explore various scenarios and help you understand how to cancel your mobile contract early while minimising costs.
Can you cancel your phone contract early?
If you're wondering whether it's possible to cancel or modify your phone contract before it ends, the answer is 'yes'. However, specific scenarios determine whether you can do so without incurring 'early termination fees' or 'early exit fees'. If you're not in any of these scenarios, the next section tells you how to find out what fees you'll face.
If you're within 30 days of the contract end date
Here you're near the end, so you can leave with no fees, provided you give 30 days' notice. You may receive offers from your network, but you have every right to decline and explore alternative phone deals.
If you're in the first 14 days of your contract (if you signed up online or by phone)
You get a cooling-off period lasting 14 days under the distance selling regulations. During this, you can leave penalty-free, though you'll need to pay for any chargeable calls, texts or data you've used.

If the phone's faulty, you've usually 30 days in which to return it.
If your network increases prices
Networks tend to have annual inflationary price rises written in to the contract when you sign up. However, if not, or if the price hike exceeds the terms, your network has to give you 30 days' notice, and you can cancel the contract during this period. (This doesn't apply if there's an introductory offer and the price increase is due to you moving to the normal monthly payment.)
If your signal quality is poor (though this is a greyer area)

Here you can use the 14-day cooling off period. However, if you move home and the signal's bad in your new place, it's complicated. Your contract may include an 'acceptable coverage guarantee', which would allow you to cancel it if the signal regularly drops, but not all networks offer this.


If not, appeal to the provider to see if it'll let you leave penalty-free out of goodwill. If it doesn't play ball, you may need to pay significant costs to leave.


Before you take out a contract, check coverage using our Coverage Checker.
For all the latest deals, guides and loopholes simply sign up today – it's spam-free!
What fees are there for cancelling a contract?
Before cancelling your contract, you can check if your contract has finished or if you're still within the minimum term. If you're still locked into the contract, then you may have to pay a substantial fee to end it early. Typically you'll have to pay off the remainder of the contract (possibly with a small discount), so ending particularly early is rarely financially sound.
If you want to check, text INFO to 85075 from the phone number of the network you want to leave. You'll then get a text in response telling you whether you're still in contract and whether there are any charges if you leave now.
Almost all providers require 30 days' notice if you wish to leave.
How to cancel your phone contract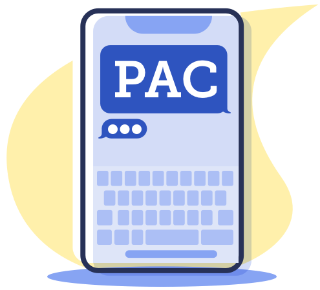 The easiest way to cancel your phone contract is by text. If you want to keep your current phone number, just text the word PAC for free to 65075. Your network will then text you a code that you provide to your new network. If you're still within contract, your network will tell you what charges you might have to pay for leaving early, if any.
The code is valid for 30 days, and if you don't provide it to your new network in that time it will expire and your plan won't be cancelled – so you'll have to request the code again. Once you do supply your PAC code to a new network, it should arrange for the switch to be completed within one working day.

Alternatively, you can contact your network directly, but it may try and keep you as a customer. Mobile firms are among the easiest to haggle with, so if you did want to stay with your network, it may end up offering you a better deal. See our Top haggling tips.
How to change network and keep the same number
Switching to a cheaper deal with another network is easier than ever, as you no longer have to call your current provider to ditch it, so you avoid the hard sell of them trying to make you stay. Here's what to do:
Request a switching code by text.

Simply text

'PAC'

for free to

65075

on any network and you'll be sent your

'porting authorisation code' (PAC) immediately via text so you can keep your number.

Its text must include important info such as any exit penalties, outstanding handset costs or credit balances.



You need to give the switching code to your new provider within 30 days.

You'll then be switched within one working day. You won't need to contact your old provider again.

What's more, if you're out of your minimum contract period, mobile providers are now banned from charging you for the remainder of your notice period after you've switched (which is typically 30 days), putting an end to paying for your old and new contract at the same time.
If you're still in contract, you could be charged early termination fees for leaving – check how much you'd be charged by sending a text with the word 'INFO' to 85075.
How do I find a better mobile deal?
For many, the only way they've ever got a new phone is via a two-year contract with a network that bundles the cost of the handset in with a monthly fee for airtime – usually at a hefty mark-up. This can often be the most expensive way to buy a phone, though there are ways to cut the cost.
Reseller sites are almost always cheaper than going direct to the network – and can sometimes undercut buying upfront and pairing with a cheap Sim. You can use our Cheap Mobile Finder tool to compare against multiple resellers. The contract is still with the main network, so you get the same service, just via a cheaper source. Find our top-pick deals and other tips in our Cheap iPhone and Cheap Samsung guides.
For all the latest deals, guides and loopholes simply sign up today – it's spam-free!