Cheap mobile tips
Best way to buy a mobile phone, your rights & more
Millions of people overpay on their mobiles, yet it's simple to ditch pricey plans. So if you're out of contract, check now if you can cut the cost – many can save £100s a year.
Looking for our top pick mobile deals? Our Cheap Mobile Finder tool searches 1,000s of deals from more than 50 retailers.
Top mobile phone need-to-knows
Whether your phone's rarely out of your hand or you only use it for the odd call, the chances are you're massively overpaying for the minutes, texts and data that you use – especially if you haven't switched in a while. Here's our top tips for cutting sizeable chunks from your mobile bill.
Switching to a cheaper deal with another network is easier than ever, as you no longer have to call your current provider to ditch it, so you avoid the hard sell of them trying to make you stay. Here's what to do:

Request a switching code by text. Simply text 'PAC' for free to 65075 on any network and you'll be sent your 'porting authorisation code' (PAC) immediately via text so you can keep your number. To get a new number, text 'STAC' to 75075.

Its text must include important info such as any exit penalties, outstanding handset costs or credit balances.


You need to give the switching code to your new provider within 30 days. You'll then be switched within one working day. You won't need to contact your old provider again.


What's more, if you're out of your minimum contract period, mobile providers are now banned from charging you for the remainder of your notice period after you've switched (which is typically 30 days), putting an end to paying for your old and new contract at the same time.

If you're still in contract, you could be charged early termination fees for leaving – check how much you'd be charged by sending a text with the word 'INFO' to 85075.

Though the process varies by provider and you may be able to do it on the phone, once you've got your new (temporary) number from your new network, you'll usually then need to fill in an online form. If you're switching from another provider, the links below tell you each network's process for porting.


The number switch takes place the next working day after you give your PAC to the new provider.

It's a different process if you're swapping within the same provider

If you're switching to a new tariff on the same network, for example if you're on pay-as-you-go and upgrading to a contract, you shouldn't need to carry out this process – just call your mobile provider's customer service helpline and they should be able to sort it.

If you don't get close to using your allowance of minutes, data and texts each month, you're essentially overpaying for your contract. Bust your limit though, and the extra charges can be costly.

In our last MSE data usage poll, 76% of the 3,500 respondents said they use less than 3GB a month. However, regulator Ofcom says it is a bit more than this, with average mobile data usage in 2021 said to be 5.6GB a month.

If you want to check your usage, our handy Data Calculator in our Cheap Mobile Finder tool can help you. Key in your usage (for when you're not using Wi-Fi) and it'll give you a general idea of how much data you need.

Many mobile contract and Sim only deals offer 'unlimited' minutes, texts or data, but it's important to understand what that actually covers.

Unlimited minutes are to UK landlines and mobiles, and unlimited texts to UK mobiles – other calls/texts and roaming outside the UK may cost more. Always make sure you know exactly what's covered and what you'll have to pay extra for.

Similarly some networks place 'fair usage' caps on their 'unlimited' tariffs, (confusingly) limiting the allowance you actually get. Where a provider does this on a plan we write about we'll say so, but it's worth checking yourself before signing up.

You may find you can keep costs down by taking a smaller data plan and using free Wi-Fi while you're out and about. However, be careful not to use public Wi-Fi for online banking, accessing email or anything that could make your personal information vulnerable to hackers. For more tips on staying safe online, visit Action Fraud.

There are Wi-Fi hotspots dotted all over the UK (and abroad), most of which are free. Countless places now offer it for free as standard, including large chains such as McDonald's, Starbucks and Wetherspoons.

If you use up your data allowance before the end of each month, it could end up costing you. You can now add a spending cap which means you won't be able to exceed this limit, so you can avoid any unexpected bills. You can do this via your network's online account or app, though if in doubt just call it and ask.

If you'd prefer not to add a limit, make sure you're on top of your usage as some networks won't warn you about extra charges – which are often at eye-watering rates. Here are some other ways to avoid this:

Use Wi-Fi whenever possible – but not for emails, online banking or anything that could make your personal information vulnerable to hackers when using public Wi-Fi.

If you really need more, then consider switching to a different deal or speak to your network about upping your allowance if you'd prefer to stay put – this may cost, but it'll likely be cheaper than exceeding your limit.

Mobile networks are permitted to increase your monthly tariff price each year, but only if their T&Cs state so before you sign up. And all the major networks have such terms, including EE, O2, Three, Virgin Mobile and Vodafone.


Changes are usually made in line with the Retail Prices Index or Consumer Price Index (RPI and CPI are both a measure of inflation) between February and April each year, but recently, some firms have chosen to change the way their prices rise each year, opting to increase by inflation, plus a percentage amount on top. We've seen such recent announcements from all of the biggies.

If a provider hikes your monthly bill and its T&Cs don't allow this – then you can leave your contract penalty-free.

Haggling on monthly mobile phone contracts can slash the price you pay. If you have a contract deal and you're nearing the end of your fixed term, your network will be frantically trying to keep you, so it's the best time to haggle. Long-term customers have a better chance of success here.

Our latest poll showed the best mobile providers to haggle with are Three, Sky Mobile and O2. See our Mobile Phone Haggling guide for help with getting a better deal. Bear in mind though it's usually harder to haggle on a contract for a new phone, particularly if you're after the latest model.

Before you call your provider, arm yourself with 'new customer' deals

All of the deals in our Cheap Mobile Finder are for new customers of that provider, but you could use the deals listed to try and haggle yourself a better one with your current provider.

You can get an idea of signal strength in a particular area with Ofcom's Telecoms Coverage Checker or alternatively you can use our Cheap Mobile Finder which uses the same data.

This'll show you results for one of the four main networks – EE, O2, Three and Vodafone – but 'piggyback' networks use their signal and generally offer far better value, so don't think your options are limited to one of the biggies. See a full list of which provider is on which network in our Mobile Piggybacking guide.

For a more accurate indication than Ofcom's checker can give you, it may be worth picking up a free pay-as-you-go Sim from the network you're considering, topping it up with a bit of credit and putting it to the test before committing.

Ofcom's tool uses the networks' data on coverage, but it says it builds on this with information gathered from its own field tests. The regulator's also used its own research to determine what threshold of signal it believes is required for a clear call connection – and it's higher than that set by the networks, so in theory you should get a more robust picture of the service you're likely to get.

The tool's by no means perfect and you may find you don't agree with the results it shows. If so, Ofcom says it wants to know, so it can improve it in the future (on the tool, click the 'your feedback' link below the map).

It very much depends. Under the Consumer Contracts Regulations, if you ordered online or over the phone, you can cancel your mobile contract up to 14 days after you sign up for any reason. But if you buy in store or a problem arises after that, it can be tricky.

Ofcom says it expects providers to deal "fairly and sympathetically" with customers who have signal issues because of mobile network problems – for example, if a provider switches off a mast or there are faults with the network. In these circumstances, the customer should be offered compensation or be allowed to leave the contract early without penalty.

However, if the reason for the loss of coverage is unclear or in dispute – say, if there's bad weather – it's less clear cut. In these cases, Ofcom says you have "clear rights to seek redress or a resolution" to a complaint. In the first instance complain directly to your network, and if it's not able to help then go through its official complaints procedure.

The free complaints-handling company Resolver can help you with your claim. If it doesn't get anywhere with the provider, it'll escalate your complaint on your behalf to the relevant alternative dispute resolution (ADR) scheme.


Unlock your phone for free. Unlocking your phone means you can use any network's Sim, which gives you the freedom to switch providers.

Mobile providers are now banned from locking devices to their network. But if you purchased your phone through a network before December 2021, chances are it'll be locked to that network. See our Mobile Unlocking guide for full details of how to unlock it for free.

Post-Brexit roaming protections have now ended and most major networks have reintroduced roaming fees in the EU, ultimately leaving mobile users with weaker rights and many with higher costs. Yet you can cut the cost substantially by using networks' hidden deals or by getting a specialist Sim card to use overseas.

Get more info on the cost of using your phone abroad and the various specialist Sims available in our Cheap Mobile and Data Roaming guide.

When getting a new handset, recycle the old one and you could earn £100s, depending on the make, model and condition of the phone.

There are a raft of companies willing to recycle your phone for cash, yet be warned – the differences in what they'll offer are huge. For help, see our Sell Old Mobiles guide.

These sites are all about instant prices though. If you're prepared to put in a little more effort and flog your handset on eBay, you can often beat their prices. See our full eBay Selling Tricks guide for more info.


If you lose your phone and realise you've it set to silent, you often despair and think it's pointless trying to ring it to locate it. Luckily, this isn't the case. There's a way to help you find it that could save you having to shell out on a new one or having to pay any insurance excess.

If you're an iPhone user, you can use the Find My iPhone service on iCloud to make it ring.

Go to Find My iPhone
Login to your iCloud account (you must have one), select the device you want to emit a sound and click 'play sound'.
Your device will ring whether it is on silent or not.


If you've an Android phone, you can make it emit a noise with Google's Find My Device service, provided you've set up a Google account with the phone.

Go to Find My Device,
Login to your Google account (you must have one) and click 'play sound' on the device you want to ring.
Your device will ring whether it is on silent or not.
Happy with your handset? Switch to a cheap Sim only deal to cut your monthly costs
If you're happy with your handset, most don't need to pay any more than £5/mth. That's because you can get a decent amount of minutes, texts and data for under £5/mth, simply by swapping out the Sim in the back of your phone for one with a better deal.
Plus if you're out of contract and still paying for a handset each month, then you're effectively paying for it TWICE – so stop immediately. Don't just settle for the same plan, provider and price each year. Mobile tariff costs are coming down, so if anything you should be paying less each year, not more. Here's how to do it: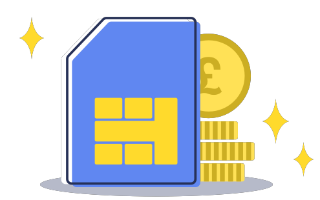 There are two types of Sim only deals – 30-day rolling contracts which you're free to leave with a month's notice, or fixed-term contracts, usually locking you in for 12 months (often, though not always, better value). Though, with longer contracts, you're often credit checked.
These are great value if you already have a handset or can afford to buy a new handset upfront, and work out better for heavy data users. Use our Cheap Mobile Finder to find the right Sim for you or see our Top pick Sim deals.
2. Choose a pay-as-you-go deal for no credit check or ties and to never go over your allowance
If you pay for your mobile via pay-as-you-go, you won't be tied into any contract – simply pay in advance for what you use via top-ups, online or on the phone. Pay-as-you-go packs, however, auto-renew.
Pay-as-you-go doesn't require any credit check, but is generally more expensive for medium or heavy users – see our Cheap Sim finder for the best deals.
Buying a new handset? Do it the cheapest way
Buying a new handset is never MoneySaving – especially the high-end flagship models from the likes of Apple and Samsung – but if you're determined to get one anyway, buying it in the right way could save you £100s compared with the cost of a standard contract.
That means never going direct to a major network as you'll almost always overpay. Sometimes it's cheapest to buy a new phone outright and pair it with a cheap Sim, but right now contracts through resellers and smaller providers smash that method for some phone and allowance combos.
When looking for a cheap handset, here's a quick rundown of what to look out for: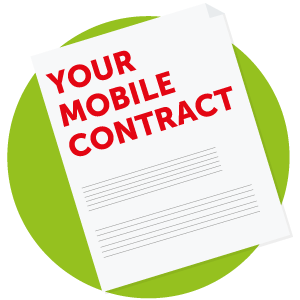 For many, the only way they've ever got a new phone is via a two-year contract with a network that bundles the cost of the handset in with a monthly fee for airtime – usually at a hefty markup. This can often be the most expensive way to buy a phone, though there are ways to cut the cost.
Reseller sites such as Fonehouse and MobilePhonesDirect are almost always cheaper than going direct to the network – and can sometimes undercut buying upfront and pairing with a cheap Sim. You can use our Cheap Mobile Finder tool to compare against multiple resellers. The contract is still with the main network, so you get the same service, just via a cheaper source. Find our top-pick deals and other tips in our Cheap iPhone and Cheap Samsung guides.

The cost of the handset is spread out – but it often costs you more in the long term, and there can be cheaper ways to spread the cost, such as the 0% deals mentioned above.
You'll be locked in for 24 months in the majority of cases, though some providers are now trying to tie people in for even longer.
Your monthly price is likely to increase each year with inflation.
You'll be credit-checked.

The majority of phone contracts which include a handset are paid for monthly over a two-year period, meaning the handset is paid for at the end. Though the handset has been paid for, most providers continue to charge the same monthly price after the initial contract period is over, meaning you're effectively paying for the phone again.

To avoid overpaying, make a note of your contract end date and diarise to contact your provider one month before it ends to give it notice, which means you're free to leave or change deal. If you're happy with your phone, consider switching to a cheap Sim only deal or see our top tips for haggling a new deal.
2. Compare buying it outright and getting a cheap Sim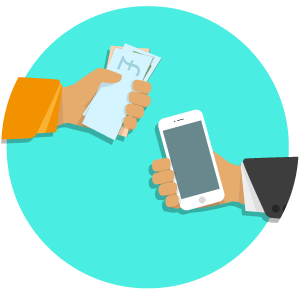 Straightforward – look for the handset at the cheapest price you can find, and pair it with a cheap Sim only deal.

That used to be the cheapest way to get a new phone, but over the last year or so we've seen some contract deals with a lot of data massively undercutting that method. Our cheapest new handset tool includes both options across most phone models to make it easier for you to compare.
Also consider refurbished models as these can be a lot cheaper. They won't usually come with the original packaging and may not include all the accessories, but will have been tested and will often come with a warranty – for more info see our Buying a refurbished mobile guide.


If you want a snazzy phone and it's cheaper to buy your handset and Sim separately, but you can't afford to buy the handset upfront, you're best off saving up. But if you really can't wait, you could opt for a way to buy it now, but pay no interest.
Looking for a new Apple iPhone 14, 14 Plus, 14 Pro or 14 Pro Max?
Apple Monthly Payments is Apple's interest-free financing scheme – it's available for the iPhone 14 range.
Apple has three payment schemes available, two in store (iPhone Payments and its iPhone Upgrade Programme), and the other when buying online (iPhone Monthly Payments).

Its iPhone Upgrade Programme gives you the option to swap handsets and includes AppleCare, its extended warranty and technical support service, but this scheme can usually be beaten by other methods. See our full analysis of the iPhone Upgrade Programme (the examples are old but the same principles apply).

iPhone Monthly Payments (online)

If purchasing online and opting for iPhone Monthly Payments, you'll pay the total price divided into 24 monthly instalments. For both payment schemes, you'll be credit-checked by Barclays and will need to be accepted for what's technically an interest-free loan. Here's an example of what it costs to buy the new iPhone 14 range online through iPhone Monthly Payments:

iPhone 14 – £35.37/month for 24 months for the 128GB model (£39.95/month for 256GB or £49.12/month for 512GB)
iPhone 14 Plus – £39.54/month for 24 months for the 128GB model (£44.12/month for 256GB or £53.29/month for 512GB)
iPhone 14 Pro – £45.79/month for 24 months for the 128GB model (£50.37/month for 256GB, £59.54/month for 512GB or £68.70/month for the 1TB model)
iPhone 14 Pro Max – £49.95/month for 24 months for the 128GB model (£54.54/month for 256GB, £63.70/month for 512GB or £72.87/month for the 1TB model)

iPhone Payments (in store)

iPhone Payments is Apple's interest-free financing scheme, available in store on the latest iPhones. It allows you to buy the phone for Apple's standard price but pay only a small amount upfront (currently £69) and then the rest in 20 monthly instalments.


You can ONLY get iPhone Payments in store – first, reserve a 'shopping session'. As there's limited capacity in stores, it's best to reserve a 'shopping session' online before visiting.


When you purchase the phone, you can opt for iPhone Payments. As there's a credit check, you'll need to take bank details, a valid UK driving licence or passport, debit card and your current mobile. You'll need to be a UK resident aged 18+, have a UK bank account and have lived in the UK for three or more years.


If accepted (it could take up to an hour), you'll pay £69 upfront and the rest in 20 monthly instalments. Your loan will be with Barclays, the finance provider behind the scheme, at 0% APR interest. Monthly repayments are made by direct debit. If you don't keep up with them, Barclays would take the same action as any other loan provider – it could result in a mark on your credit file, for example.
No matter how much storage space your mobile phone's got, it'll eventually fill up with photos, videos, apps and more, severely limiting what you're able to do with it. The natural response to this is to pay out for memory cards or online storage, or even upgrade to a new phone with more space – and a significantly bigger price tag.

However, it's highly likely you'd be splashing your cash unnecessarily, as there's a variety of very simple things you can do on Android and iOS devices to save anything from a few MB to bundles of GBs without spending a penny.

Some of these may seem obvious, such as moving photos and videos online, but did you know you can get unlimited FREE online storage, via the Google Photos app? Spring cleaning your remaining apps could also save you GBs, as could hunting down and deleting hidden downloads.

For step-by-step instructions, see our How to increase phone storage guide.

As your mobile phone contract comes to the end of its minimum term, you're often hounded by your provider, which will try every trick in the book to get you to upgrade to a new handset – and lock in to a new tariff to pay for it.


It's easy to be lured by the promise of a 'great deal', free of the 'hassle' involved in finding a new contract and switching network. The sad fact is though that for most, you'll be paying over the odds if you fall into this trap. Instead, you're better off seeing what else is out there.

That's not to say you can't get a competitive offer out of your current network though, particularly if you're happy to stick with your existing handset. Swot up on the best rival deals out there using a comparison site and then get haggling.

If you sign up for a contract, you're essentially committing to a phone company (and often a handset too) for the length of the contract.

This means you must think carefully about your budget and if you can afford the ongoing monthly payments. The amount of time varies between deals – a few last 12 months, but most high-end smartphone contracts now span 24 months, with some networks even trying to tie people in for 36 months.

Before you sign up to a contract, make sure you're happy to be locked in for the minimum term. If you want to leave early, it's likely you'll have to pay termination fees which cover the cost of the contract.
Have your say in our forum!