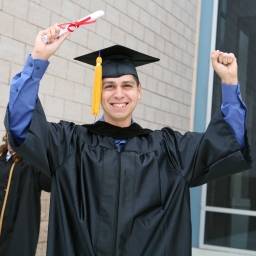 Millions of graduates repaying their student loans will pay no interest from this September but not everyone will pay the negative interest rate expected.
It was announced today that those who took their loans out from 1998-onwards – about 2.9 million with outstanding balances – will pay 0% interest during the next academic year. Those who took out a loan pre-1998 will see their loan balance reduce even before they've made any payments as they'll pay a minus 0.4% rate.
These rates, revealed by the Student Loan Company (SLC), are set by the Treasury.
However, the Government has always said the student loan rate for each academic year will follow the previous March's Retail Prices Index (RPI) inflation figures (or be cheaper). This March, it stood at minus 0.4%.
Yet Westminster invoked a law allowing no interest rate to be set for 1998-onward loans.
The fear is that as this principle has been broken, it may mean future rates are also set above the RPI level.
Martin Lewis, creator of MoneySavingExpert.com, says: "It is outrageous the Government has broken a binding principle of student loans. Loans have always been set at the rate of inflation so there is no 'real cost' to them.
"Yet the Government has u-turned on this promise, and is effectively overcharging millions of students. which was never supposed to happen. Once the principle is broken it's very difficult to fix.
"While 0% loans sound cheap, it means former students' purchasing power is being eroded, as with deflation, loans should be shrinking.
"Currently, students with loans of £10,000 are only £40 a year out of pocket, the worry is what happens if inflation goes to minus 5%. This change doesn't come into effect for a few months, so there is still time for the Government to do the right thing. I urge it to change its mind."
An SLC spokeswoman says: "The decision (on 1998-onward loans) has been taken because loans are already well subsidised, and it would be difficult to justify to taxpayers a situation whereby students take out loans in 2009/10 and their balances are immediately reduced."
Student loan Q&A
Q. Why should loans shrink?
A. The rate should change in September to the previous March's Retail Price Index (RPI) inflation figure. That was revealed as MINUS 0.4% last March. So from September, student loans should be reduced by 0.4% over the year.
Q. Why's it set at inflation?
A. It's a binding principle that there should be no real cost to student loans to ensure purchasing power isn't diminished. Inflation is the rate at which prices rise. Thus, borrow £1,000 which'd buy ten shopping trips worth of goods, and you'll only pay back whatever it then costs to buy the same ten shopping trollies (eg, £996 after 0.4% deflation).
Q. What's the current rate?
A. It depends when you started uni. Pre-1998 starters: these loans are currently at 3.8%, the RPI figure from March 2008. Post-1998 starters: the current rate's 1.5%, as there was a special clause invoked for the first time this year saying if a basket of banks' interest rates, plus 1%, is lower than inflation, student loan rate should drop to that, and it has.