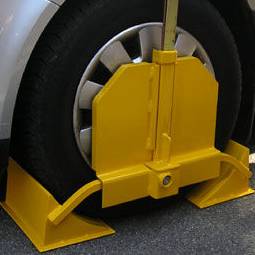 Wheel clamping on private land should be banned and parking ticket issuers need to be properly regulated to protect vulnerable motorists, says the AA.
The call backs MSE's view that tickets issued on private land are usually unfair, while towing and clamping by private firms is often carried out illicitly, with drivers hit with exorbitant charges.
More than one in 10 drivers have been issued with a private parking ticket over the last year, it's been discovered. In one horrific case, a lady was charged over £500 to get her car released.
Yet many tickets from private parking firms are unenforceable and you should not pay them.
MSE this week launched the Private Parking Tickets guide to help you beat the cowboys and avoid sky-high and often illegal raids on your cash.
Ban the clampers
Now motoring organisation, the AA, is calling for wheel clamping on private land in England and Wales to be made illegal, as it is in Scotland. It adds that Government proposals to ensure clampers are registered with a trade association will not work.
In an AA survey, 11% of those asked said they had received a parking ticket on private land in the past 12 months.
The motoring organisation describes some clampers' behaviour as "criminal", adding that the huge amount taken from motorists has reached "epidemic" levels.
It has compiled a dossier of abuses by private parking firms. In one case, a lady, on her own, whose car was clamped and removed at night was charged £527 to get it back.
Unregulated
There are no regulations for parking control on private land and no formal appeals process. Yet if you get a ticket on a public road from an official body you can appeal to an independent tribunal.
The AA's head of public affairs, Paul Watters, says: "Self-regulation is not working as there are too many firms and individuals operating in this often shady area. The trade body members making and enforcing the rules are trying to rein in something that is spiralling out of control."
Wendy Alcock, MoneySavingExpert.com money analyst, says: "Private parking tickets are a nightmare for many motorists.
"The whole industry needs a complete shake up, from the DVLA providing unscrupulous ticketers with drivers' details to landowners needing to take responsibility for the activities taking place on their land when they hire firms to manage their car parks."
Further reading/Key links
Fight private tickets: www.moneysavingexpert.com/privateparking
Parking appeals (council-issued): www.moneysavingexpert.com/parking