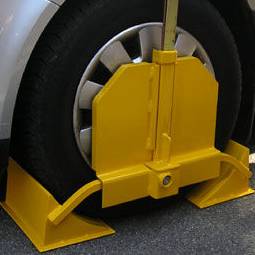 The number of motorists who have been wheelclamped has risen by 64% in the last 12 months, according to figures out today.
And while local councils took £21 million in clamping fees in the last year, private clamping firms took £58 million, statistics from insurance company Liverpool Victoria (LV) showed.
LV say 17% of drivers thought they were clamped even though they were parked legally, and 59% say there was little or no warning displayed to indicate they were parking in a private space.
Also, 11% of those clamped by private firms said their vehicle was not released immediately even after they had paid the release fee.
LV's car insurance managing director John O'Roarke says: "What we're seeing is a huge surge in the number of drivers being landed with unreasonable and extortionate fines.
"We believe the clamping industry needs to be better regulated by the Government. This would help to put an end to heavy handed tactics and ensure that there's a fair and consistent approach across the UK by all firms."
Many tickets from private parking firms are unenforceable and you should not pay them (see the Private Parking Tickets guide).
If you get a ticket on a public road from an official body you can appeal to an independent tribunal (see the Parking Appeals guide).
Government intervened
Stephen Glaister, director of the RAC Foundation, says: "This survey echoes our own research and just underlines the scale of the problem created by unscrupulous clampers.
"In many cases drivers are suffering grossly unfair and disproportionate penalties for what are, at worst, minor parking indiscretions.
"At the recent political conferences, MPs from all parties were falling over themselves to say how they would finally regulate this essentially law-less industry.
"Now they have to put their fine words into action. At the very least, motorists deserve an independent appeals service and some binding code of conduct which clampers have to stick to."
Home Office Minister Alan Campbell adds: "Clearly, some wheelclamping businesses indulge in unacceptable behaviour including unclear signage, excessive fees and unscrupulous towing.
"That's why the Government is working hard to bring in legislation to prevent abuses by these firms and their employees. We are currently looking to introduce a compulsory licensing scheme for all wheelclamping businesses."
Further reading/key links