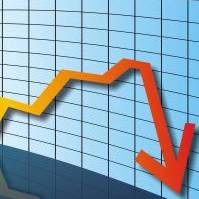 Hopes for an end to recession were dashed today after new figures showed the economy shrank for a record sixth quarter-year in a row.
The shock 0.4% third-quarter fall between July and September takes the total loss of output since the recession began last year to 5.9%, the Office for National Statistics (ONS) says (see the Recession-proof your finances guide).
Experts had predicted growth of 0.2%, but today's figures leave the UK in the grip of the longest period of continuous decline since ONS records began in 1955.
The estimates mean the depth of the current slump is nearing the 6% decline seen between 1979 and 1981.
Although figures such as Chancellor Alistair Darling and Bank of England governor Mervyn King expect some modest growth by the end of this year, pressure on the economy will intensify in 2010 as stimulus measures such as the temporary VAT cut and the "cash-for-bangers" scrappage scheme come to an end.
Unemployment is at a 14-year high and steadily rising towards three million.
Today's figures show the pressure on hard-hit consumers during the period with output from distribution, hotels and restaurants down by 1%.
Today's figures have been compiled with around 40% of the required data and could be subject to changes in the next two months when more information has been gathered.
The ONS's first estimate for output between April and June was first estimated at minus 0.8%, and subsequently revised upwards to minus 0.6%.
Pound down
The pound fell by almost 1% against the dollar and euro following today's weaker-than-expected economic performance (see the Travel Money guide).
The FTSE 100 Index of the top 100 shares clung to earlier gains to stand 1% higher.
Vicky Redwood, an economist at Capital Economics, says a further extension to the Bank of England's quantitative easing programme (the printing of money) looked even more likely at its meeting next month.
She adds: "The fact that the economy is still contracting despite the huge amount of policy stimulus supports our view that the recovery will be a long, slow process.
"The economy now looks unlikely to grow by more than 1% at best next year. Similarly, with a huge amount of slack still building, we continue to think that deflation is a key risk."
Further reading/Key links
Protect yourself: Recession-proof your finances
Save cash: Cheap Travel Money