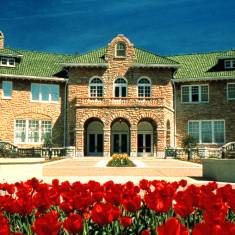 The number of homes worth more than £1 million has fallen by a third during the past two years, research showed today.
Around one in every 97 properties in Great Britain was worth at least seven figures before the housing market price drop began, but now the figure has fallen to around one in every 150, according to property market website Zoopla.co.uk.
Overall, the group estimates there are 35% fewer properties worth at least £1 million than there were in November 2007, when house prices first started to fall (see the Free House Price Valuation guide).
The North East has been the worst hit by the downturn, suffering an 83% slide in the number of million pound-plus homes, followed by Wales at 56% and the Midlands at 50%.
Unsurprisingly, London has seen the smallest reduction, with 29% fewer than two years ago, while the South East has seen a 39% fall.
Eight out of 10 homes that are still worth more than £1 million are in London and the South East.
Kensington in London has the highest proportion of properties worth at least seven figures, with 48% of the housing stock in the area valued at this level, followed by South Kensington and Chelsea at 39% and 37% respectively.
Virginia Water in Surrey has the most homeowners with properties worth at least £1 million outside of London at 28%, well up on the national average of 0.88%.
Alex Chesterman, chief executive of Zoopla, says: "The housing market downturn has taken its toll on the exclusive property millionaires club."
Further reading/Key links
Valuation loophole: Free house price valuation
Cut homeloan debt: Cheap Mortgage Finding
Latest house prices: Nationwide, Land Registry, Halifax