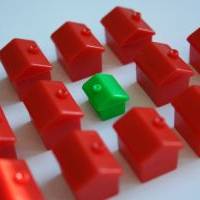 The average cost of a two-year fixed-rate mortgage has fallen below 5% for the first time in five months, research shows today.
People who want to fix their homeloan rate for two years are now typically paying 4.99%, according to financial information group Moneyfacts.co.uk.
It says this is the first time average rates on a two-year fixed-rate mortgage have been below 5% since June 23 (see the Cheap Mortgage Finding guide).
The cost of these deals rose sharply during July to peak at 5.21% as lenders responded to rising swap rates, the money market rates upon which mortgages are partially based.
But they were slower to react to subsequent swap rate falls, instead increasing the margins they charge on the deals.
The average margin between the swap rate and the amount charged on a two-year fix is now 3.21%, up from 2.72% in June.
But there has been a flurry of lenders cutting rates in recent weeks as competition slowly begins to return to the market.
Michelle Slade, from Moneyfacts, says: "Borrowers are finally starting to see more positive news coming out of the mortgage market.
"Falling rates on popular two-year fixed-rate mortgages, against a backdrop of lenders raising the maximum loan to value ratios on their most competitive deals suggests competition is increasing.
"Lenders have become accustomed to the post banking collapse world and appear to be finally relaxing their credit criteria."
But the situation is less positive for those who want to fix their mortgage costs for a longer period, with the average cost of a three-year fix increasing over the period to stand at 5.58% today.
The margins charged on five-year fixed-rate deals have also reached their highest level on record at 2.98%, giving an average rate of 6.15%.
This is well up on the average cost of a five-year fix of 5.57% in June, despite five-year swap rates falling from 3.38% to 3.17% during the same period.
Further reading/Key Links
Mortgage cost-cutting guides: The Remortgage guide, Mortgage haggling, Cheap mortgage finding, Ditch my fix?