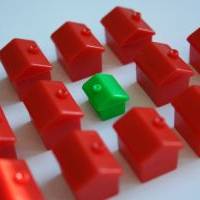 House prices rose for the fifth month in a row during November due to a shortage of homes for sale, figures showed today.
The average cost of a home rose by 1.4% during the month to stand at £167,664, the highest level since October 2008, according to mortgage lender Halifax (see the Free House Price Valuation guide).
But the group warns the prospects for the market going forward depend on the state of the economy and whether there will be a significant increase in the number of homes put up for sale. It adds that it expects house prices to remain flat during 2010.
House prices are now 4.2% higher than at the beginning of the year and rising at their fastest rate since November 2006, according to the three-month on three-month trend, which is generally seen as a less volatile indicator.
The annual rate at which prices are falling has continued to drop to just 1.6% - based on prices during the three months to the end of November compared with the same period a year earlier - well down on the peak of 17.7% in April this year.
Lack of supply
Martin Ellis, Halifax housing economist, says: "The recovery in house prices since the spring has been driven by increased demand for property, largely due to the improvement in affordability for existing homeowners and first-time buyers who can raise the necessary deposit.
"Somewhat higher demand has combined with a low level of properties available for sale to push up prices," he says.
Howard Archer, chief UK and European economist at IHS Global Insight, says: "Despite the further significant rise in house prices reported by the Halifax in November, we remain sceptical that the house price rally seen since early-2009 can be sustained for much longer.
"Consequently, while house prices may well rise further in the near term from their early-2009 lows, we suspect they they will be prone to relapses in 2010."
He expects house prices to fall by at least 5% next year.
Further reading/Key links
Valuation loophole: Free house price valuation
Cut homeloan debt: Cheap Mortgage Finding
Latest house prices: Nationwide, Land Registry, Halifax