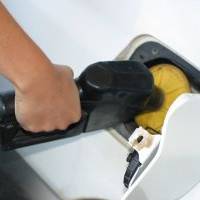 Higher petrol prices pushed inflation upward for the second month in a row in November, official figures show today.
The Consumer Prices Index (CPI) rose to 1.9% last month from 1.5% in October, the Office for National Statistics (ONS) says.
Average petrol prices rose by 2.9p to 108.3p a litre in November, compared with a record 9.3p fall to 95.2p a year earlier - adding to inflationary pressure (see the Cheap Petrol & Diesel guide).
November's inflation figure is slightly higher than the 1.8% expected by most City economists.
VAT rise to hit
CPI is still currently below the Bank of England's 2% target but could rise to 3% or more early next year when the temporary VAT cut is reversed. This will put up prices - including petrol - across the board.
Other factors pushing up inflation in November included rises in second-hand car prices which contrasted with falls a year earlier. Airlines have also cut prices by less than a year ago and clothing prices rose by more than in 2008, the ONS adds.
Despite the increasing pain at the petrol pumps, there was some relief for hard-pressed households in their shopping bills.
The ONS said food and non-alcoholic drink prices edged 0.6% higher over the month but the annual rate of inflation fell to 1.1% - the lowest level since May 2006 - thanks to falling vegetable, meat and dairy product costs.
The broader Retail Prices Index (RPI) - which includes house prices and mortgage interest payments - meanwhile returned to positive territory, with prices 0.3% higher than a year ago.
The RPI was last positive in January this year, but has showed negative since March as the impact of house price falls and interest rate cuts last year worked their way through the figures.
House prices fell a year earlier but rose last month, while mortgage interest payments also slid in November last year when lenders passed on the Bank of England's 0.5% emergency cut in interest rates in the wake of the financial crisis.
Slash fuel costs
Joint MoneySavingExpert.com/RAC research has found you could slash fuel bills by up to 60% by following some simple steps.
That equates to a £1,500 a year saving for a high-spending household that spends £2,500 a year on petrol or diesel.
Here are our tips:
Look for cheap petrol promotions, particularly in supermarkets. The Cheap Petrol & Diesel guide is updated when promotions are announced.
Use Petrolprices.com to find the cheapest local filling station.
Accelerate and brake gently.
Turn off the air conditioning.
Keep your car aerodynamic by ensuring it is clean and free of its roofrack, unless in use.
Keep tyres properly inflated.
De-clutter your car to make it lighter.
Additional reporting by the Press Association
Further reading/Key links
Drive down fuel costs: Cheap Petrol & Diesel
Best rates: Top Savings
Mortgage rate-busting: Cheap Mortgage Finding