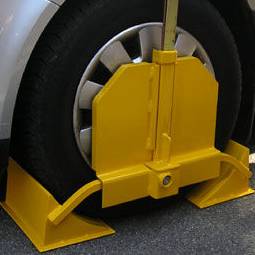 Motorists could soon challenge unfair wheel clamping on private land through independent tribunals, the Government announced today.
Appeals will be heard by independent adjudicators, who will have the power to require private clamping companies to pay back excessive fees to motorists and award compensation.
MoneySavingExpert.com has long called for an end to the grossly unfair system where drivers have few rights if clamped or ticketed by a cowboy firm.
However, motorists will have to wait until early 2011 for the new regime to come into force (see the Private Parking guide if you're a victim in the meantime).
At present, if clamped by a private firm you can usually only complain to the firm itself or go to court, which can be arduous. If clamped by a council, there is an independent appeals process (see the Parking Appeals guide).
Wendy Alcock, MoneySavingExpert.com money analyst, says: "It's about time the cowboy clampers were brought to justice. We hear tales of scandalous behaviour by these firms who think they can harass and frighten honest motorists just to line their pockets.
"Let's hope the new appeals process has the teeth to shift the balance so motorists get the protection they deserve."
The British Parking Association, which represents clampers, said this morning it is supportive of the measures.
Clamping clampdown
The policy has been tabled as an amendment to the new Crime and Security Bill. It will be added to existing Government plans for a compulsory licensing scheme for clamping firms.
The scheme will make it mandatory for all wheel clamping businesses to be licensed under the terms of a strict code of conduct. Businesses which fail to comply could be prosecuted.
The moves will mean:
There will be an independent appeal process if clamped by a private firm.
Firms will face a cap on fines.
Motorists will get the fine refunded and receive costs (eg, taxis, car hire while without their vehicle) if they win their appeal.
Time limits will be imposed to prevent towing cars unreasonably quickly after clamping.
Clear signs must be in place warning drivers of possible clamping.
Home Office minister Alan Campbell says: "The Government is committed to preventing abuses by unscrupulous wheel clamping firms and their employees.

"The introduction of an independent appeals process will for the first time provide independent recourse for motorists who feel aggrieved by unfair practices of rogue clamping businesses."
The rules will apply in England, Wales and Northern Ireland, but not Scotland, where clamping is banned.
Further reading/Key links
Dispute parking tickets: Private Parking, Parking Appeals (public land)
Cut motoring costs: Cheap Petrol & Diesel