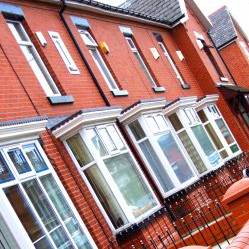 House prices rose for the seventh month in a row during January but the rate at which they are increasing slowed, figures show today.
The average cost of a UK home climbed by 0.6% during the month to £169,777, Halifax says. This is 9.9% higher than when prices hit their trough in April last year.
But the increase is the lowest in the past six months, when monthly gains have averaged 1.1%, building on previous evidence that the recent strong recovery may be running out of steam.
The group says that, unless there is a fall in house prices in February, annual house price inflation is likely to move into double digits next month for the first time since May 2007.
Figures released by the Bank of England earlier this week show that the number of mortgages approved for house purchases fell in December for the first time in 13 months.
Property intelligence group Hometrack also reported a drop in both buyers and sellers in January, while it says the number of sales agreed had also fallen during the month.
Is the property market recovering?

The data prompted economists to speculate that the recent recovery in activity levels in the market may be easing.
Martin Ellis, Halifax housing economist, says: "The marked reduction in interest rates over the past 15 months has, from a low base, boosted housing demand from those with a sufficient deposit to enter the market.
"Increased demand has combined with a low supply of properties available for sale to push up prices."
He says, overall he expects house prices to be flat in 2010.
Halifax says house prices are now 3.6% higher than they were 12 months ago, based on average prices in the past three months compared with the same period a year earlier.
This is the biggest annual increase since February 2008, and represents a significant turnaround from January last year, when property prices were 17.2% lower than they had been 12 months earlier.
The Halifax figures contrast with ones reported last week by Nationwide for the same month, which showed a surprise 1.2% jump in prices in January, with annual house price growth rising to 8.6%.
But the group cautions against reading too much into one month's figures, saying the three-month-on-three-month change, generally seen as a smoother indicator of market trends, had actually dipped slightly to 2.1% in January.
Seema Shah, property economist at Capital Economics, says: "The Halifax data for January confirmed that the housing market upturn was extended into 2010, but also indicates that it may be losing steam.
"Indeed, prices rose at their slowest rate since June. Admittedly, this is in stark contrast to last week's Nationwide data.
"However, the bigger picture is that with further job cuts likely and tax rises looming, the current recovery in prices is unlikely to be sustained."
Further reading/Key links
Valuation loophole: Free House Price Valuation
Cut homeloan debt: Cheap Mortgage Finding
Latest house prices: Nationwide, Land Registry, Halifax