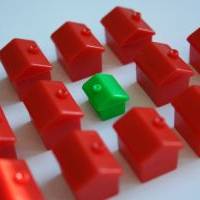 House prices fell for the first time in eight months during February, according to the Halifax House Price Index.
It attributed the 1.5% fall to the bad weather and the end of stamp duty holiday at the end of December. The average cost of a home now stands at £166,857, its figures reveal (see the Free House Price Valuation guide).
Last week, fellow mortgage lender Nationwide revealed house prices fell by 1%, according to its index, the first monthly drop in ten months.
The group blamed the slide on a fall in activity caused by the wintry weather during the early part of the year and the stamp duty threshold falling back to £125,000 at the end of December.
Halifax adds that an increase in the number of properties being put up for sale had helped to reduce slightly the imbalance between supply and demand after a year with few relatively properties on the market.
The price drop adds to speculation house price rises may have run out of steam, with many economists expecting further price falls this year.
Howard Archer, chief UK and European economist at IHS Global Insight, says: "The fall in house prices in February reported both by the Halifax and the Nationwide is supportive to our long-held view that house prices will be prone to corrections in 2010 and will probably be no better than flat over the year.
"This view is further supported by Bank of England data showing a marked dip in mortgage approvals in January from already relatively muted levels, even allowing for the impact of the bad weather.
"The fact of the matter is that the house price rises that have been seen since early 2009 have been out of kilter with the overall economic fundamentals."
Further reading/Key links
Valuation loophole: Free house price valuation
Cut home loan debt: Cheap Mortgage Finding
Latest house prices: Nationwide, Land Registry, Halifax