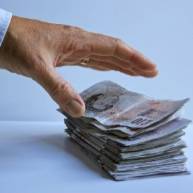 Anyone aged 50-54 only has days to draw a private pension and take a tax-free lump sum worth 25% of their pot, or wait until they are 55.
Yet pensions experts warn grabbing your cash early isn't best for all, so do your homework first.
On 6 April, the start of the next tax year, the minimum age to draw a private pension rises from 50 to 55, but you've only realistically got until 1 April to act because the remainder of the tax year falls over the four-day Easter weekend.
Even then, you shouldn't waste any time, if it's worth taking your pension early, in case of administrative delays.
However, anyone who will be 50-54 on 6 April should only attempt to draw their pension over the next few weeks if they are already geared up to as there is little time left to make such a big decision, it is claimed.
You should consider speaking to a pensions adviser because it is likely to be one of the biggest financial decisions of your life.
Is it worth it?
Pensions experts say it may be best not to draw your pension early, especially if you have a small pension pot and are relying on all of that cash when you stop working.
Financial adviser firm Hargreaves Lansdown says its default position is not to draw your pension or take the lump sum unless you have a specific need. This may be because you've been made redundant, have to pay school fees, have a mortgage shortfall, etc.
It adds that if you need to draw on your pension early, a drawdown is a better bet than an annuity because annuity rates for those in their early 50s are poor (see the Free, Printed Annuities Guide).
In addition, as it's rarely worth taking an annuity from your pension provider, there may not be enough time to set up an annuity with another firm, it adds.
Tom McPhail, from Hargreaves Lansdown, says: "Most investors are unlikely to be able to retire in their early 50s but they may want to make sure they have access to their pension. If this is the case they need to act quickly."
For more, see DirectGov and speak to a pensions adviser.
Further reading/Key links
Boost pension: State Pension
Pension MoneySaving: Pensions