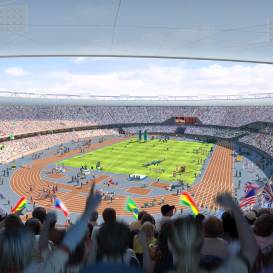 Sports fans can register an interest from today to buy tickets for the London 2012 Olympics but they will not be able to purchase them on a Mastercard.
The London Organising Committee of the Olympic Games and Paralympic Games (LOCOG) stresses signing up does not guarantee a ticket but means you'll get information on when they go on sale, which is likely to be in spring 2011.
If the 8 million available tickets are oversubscribed, a ballot will be held. Prices are not yet known, though you can reghister now via the London 2012 website.
Visa cards, including credit, debit and prepaid plastic, will be the only payment card accepted. This rules out using Mastercard (credit or debit card), American Express or other plastic type.
The only major provider that will still issue Mastercard debit cards when tickets go on sale is Yorkshire/Clydesdale bank.
Some HSBC, RBS and Natwest customers still have a Maestro (part of Mastercard) debit card but these are gradually being changed to Visa debit.
An LOCOG spokesman says the decision has been made becuase Visa is an Olympic sponsor. He adds: "We will accept cash, and probably cheques, but we are working through the detail at the moment. More details to follow before tickets go on sale next year."
Further reading/Key Links
Cut costs: Cheap tickets
Register for tickets: London 2012