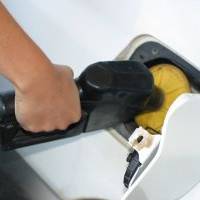 Petrol prices will reach record levels this year, according to research by the AA.
The motoring organisation has warned unleaded fuel could soon cost £1.20 a litre or more and urged Chancellor Alistair Darling to delay the introduction of a planned 3p increase in petrol duty due to come in on 1 April.
AA president Edmund King says: "The UK is barely out of recession, yet petrol prices threaten to rise to record prices seen during the boom of 2008 - shortly before the collapse into recession.
"If families, drivers on fixed incomes and those on low pay were unable to cope with record prices then, they are even less likely now."
AA research found an average family with two cars is paying £52 a month more to fill up now than a year ago.
The average petrol price in the UK is 115.9p for a litre of unleaded and 116.6p for a litre of diesel, according to www.petrolprices.com.
Even if the 3p increase is withdrawn, the price paid by drivers could soon hit 120p a litre - £5.41 a gallon - according to the organisation.
This would overtake the previous high of 119.7p in July 2008.
The AA said the price increases were caused by the rise in the price of wholesale gasoline since the end of January.
How to slash fuel costs
Joint MoneySavingExpert.com/RAC research has found you could cut fuel bills by up to 60% by following some simple steps.
That equates to a £1,500 a year saving for a household that spends £2,500 a year on petrol or diesel.
Here are our tips for drivers:
Look for cheap petrol promotions, particularly in supermarkets. The Cheap Petrol & Diesel guide is updated when promotions are announced.
Use Petrolprices.com to find the cheapest local filling station.
Accelerate and brake gently.
Turn off the air conditioning.
Keep your car aerodynamic by ensuring it is clean and free of its roofrack, unless in use.
Keep tyres properly inflated.
De-clutter your car to make it lighter.
Additional reporting by the Press Association.
Further reading/Key links
Drive down fuel costs: Cheap Petrol & Diesel
Find cheap filling stations: PetrolPrices.com