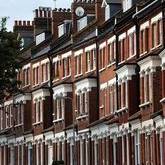 House prices were broadly flat in April, declining by just 0.1%, according to mortgage lender Halifax's monthly index.
This followed a 1.0% increase in March, and leaves the average property price standing at £168,202 (see the Free House Price Valuation guide).
Despite prices remaining flat in April, the annual rate of growth still increased to a two-and-a-half-year high.
Property values were 6.6% higher during the three months to the end of April than they had been during the same period a year earlier, the highest level since October 2007.
The Halifax figures contrast with data reported by Nationwide for April, which showed house prices rising by a strong 1% during the month, pushing annual growth up to 10.5%, the first time it has been in double digits since June 2007.
Martin Ellis, Halifax housing economist, says: "The underlying rate of house price growth has slowed in recent months following the relatively sharp rebound, albeit from a low base, in the second half of 2009.
"The improvement in house prices since spring 2009 has encouraged more people to try to sell their property.
"New sales instructions have risen, helping to push up the stock of unsold properties in recent months. As a result, the imbalance between supply and demand is easing somewhat."
Further reading/Key links
Valuation loophole: Free house price valuation
Cut homeloan debt: Cheap Mortgage Finding
Latest house prices: Nationwide, Land Registry, Halifax