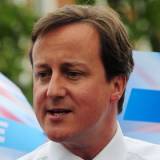 The public have no faith in politicians when it comes to defending their consumer rights.
Politicians, such as new Prime Minister David Cameron (pictured, right) and his deputy Nick Clegg, scored no votes when asked 'Who would you list as today's consumer champions?'.
Consumer websites are the most trusted with 39% of votes. MoneySavingExpert.com is most trusted site with 49% of votes from those who chose websites (see the Consumer Rights guide).
Sites from Tesco, Which?, Google, Comparethemarket.com, Facebook, and Confused.com also scored in the survey by consultancy firm TLG Communications.
Supermarkets gained 26% of the share, local retailers 11%, newspapers 5% and trade unions 5%.
Government department, the Office of Fair Trading, did not receive a single vote.
Malcolm Gooderham, TLG managing director, says: "The web is so central to our lives that consumers now see dot.com companies as their natural champions.
"Large parts of corporate and political Britain are struggling to address both rising expectations and the dynamism of the internet."
Further reading/Key links
Sort your finances: Money Makeover, Budget Planner
Get help: Debt problems