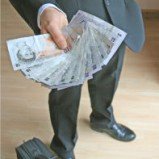 Unions today welcomed confirmation by the Government of increases in the national minimum wage, which will see the adult rate rise to £5.93 an hour in October.
The 13p rise for those 21 and above is in addition to a 9p increase in the rate for 18- to 20-year-olds to £4.92 and a 7p hike for 16- and 17-year-olds to £3.64.
The Government confirmed that the new rates will come into effect on 1 October, adding that the remit of the Low Pay Commission for making future recommendations will include paying particular attention to the competitiveness of small firms and the employment prospects of young people.
Employment Relations Minister Edward Davey says: "The increases to the national minimum wage this year are appropriate for the economic climate.
"They will strike a balance between helping the lowest paid whilst at the same time not jeopardising their employment.
"The Low Pay Commission estimates that around 970,000 people stand to benefit from these increases.
"Workers on the minimum wage are disproportionately likely to be employed by small firms and so it is right the Low Pay Commission considers their competitiveness when they make their recommendations for next year."
TUC general secretary Brendan Barber says: "We welcome the new Government's decision to confirm the recommendations of the Low Pay Commission.
"The minimum wage has been a great success and, if this announcement means that this is an area that will see continuity rather than change, it will win wide support."
Further reading/Key links
Grab entitlements: Benefits Check-Up
Seek help: Debt Problems