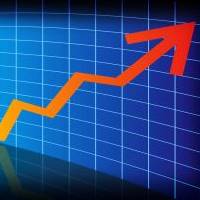 The UK economy roared ahead with its fastest growth in more than four years between April and June, official estimates show today.
The 1.1% leap in output was almost double the 0.6% expected by the City and the highest since the first quarter of 2006, the Office for National Statistics (ONS) has revealed.
The stellar advance was driven by the UK's powerhouse services sector which accounts for three quarters of the economy and saw its best quarter in more than three years with growth of 0.9%.
There was also a big contribution from the construction industry, which grew at its fastest pace since 1963.
The huge 6.6% rise over the quarter contributed 0.4 percentage points to overall GDP as building bounced back from a snowbound first three months of the year.
Overall, the UK posted its strongest annual growth - 1.6% - since before the recession at the beginning of 2008 during the second quarter.
The 1.1% advance seen over the April-to-June period - while equalling 2006 - was last higher in 1999, the ONS adds.
As good as it gets?
But many experts warn the stunning growth seen could be as good as it gets for the UK economy as the impact of Chancellor George Osborne's savage Budget cutting kicks in.
And the much stronger than expected performance is also likely to increase the pressure on the Bank of England's Monetary Policy Committee (MPC) for a rise in interest rates from their record low 0.5%.
One member - committee hawk Andrew Sentance - is already calling for rate hikes.
Within the services sector, business and finance posted its strongest rise in almost three years - advancing 1.3% over the quarter.
Hotels and restaurants also saw a 0.7% advance while the only sector to register a fall was transport and communications - down 0.7% on the quarter due to the impact of Iceland's volcanic ash cloud in April.
Production industries including manufacturing advanced by 1% between April and June but by far the strongest gains were enjoyed by the construction sector, which accounts for just over 6% of the economy.
Further reading/Key links
Plan for redundancy: Redundancy Help
Take action: Debt Problems
Get what you're entitled to: Benefits Check Up