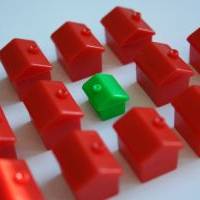 A shortage of buyers sent house prices falling in July for the first time since February, figures show today.
The average price of a UK property dropped by 0.5% to £169,347 between June and July, according to Nationwide Building Society (see the Free House Price Valuation guide).
It says the fall came as househunter numbers dwindled amid uncertainty over jobs and the wider economy, as the Government ramped up its austerity drive.
The scrapping of home information packs (Hips) also tempted more sellers on to the market, which has seen supply outstrip demand.
July's fall comes after growth stalled in June, although prices remain higher on a year-on-year basis.
Nationwide says prices are 6.6% higher on an annual basis - lower than the 8.7% jump reported in June.
It adds that, despite record low interest rates and a stamp duty holiday for most first-time buyers, the number of properties changing hands across the UK is running at half the levels seen prior to the financial crisis.
Buyers limited
Martin Gahbauer, Nationwide chief economist, says: "A combination of restrictive credit conditions and uncertainty about the future economic outlook continues to limit the pool of buyers to those with relatively large financial resources.
"Many potential buyers still lack the confidence to purchase their first home or trade up when faced with uncertainty over future income and employment prospects."
He says it would take several months to establish if the market is on a downward trend, or if prices are merely flattening out.
However, a gloomy prediction yesterday from forecasting body the National Institute of Economic and Social Research (NIESR) suggested the market is on a clear path down.
The group warns that house prices would fall by around 8% over the next five years, with inflation taken into account, as the Government's austerity measures hit confidence.
Further reading/Key links
Valuation loophole: Free house price valuation
Cut home loan debt: Cheap Mortgage Finding
Latest house prices: Nationwide, Land Registry, Halifax