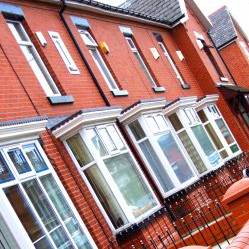 UK property asking prices fell for the second month in a row, according to research today.
Over-supply and subdued activity in the summer holidays created the fall, which has fuelled predictions of further drops this year (see the Free House Price Valuation guide).
Property website Rightmove found sellers slashed prices by 1.7% during the month to 7 August, sending the average asking value down by £4,091 to £232,241.
Soaring numbers of sellers outnumbered buyers, with the imbalance in supply and demand compounded as many house hunters took summer holidays.
Rightmove found available stock per agent rose to its highest August level for three years, up 41.3% on 12 months earlier to 29,220 a week.
It warns market conditions "bear some similarities" to the second half of 2008 when the credit crunch left prices plunging by 7.1% as agents struggled to shift stock.
Today's news will add to predictions of a relapse in the housing market, coming after the Royal Institution of Chartered Surveyors recently said its members reported falling prices for the first time in a year last month.
Rightmove stresses August is one of two months in the year that traditionally see price falls due to the holiday season, while figures show values are still higher year-on-year, up 4.3%.
Largest fall this year
But the latest monthly fall in prices follows a 0.6% drop in July and marks the biggest slide so far this year.
Ongoing restrictions in the mortgage market are hampering buyers, Rightmove adds, causing pent-up demand.
It says while numbers of buyers are dwindling, it saw an all-time high of daily activity on the website earlier this month.
Miles Shipside, director of Rightmove, says: "There needs to be a spur to cause prices to rise.
"However, as mortgages won't become available to the masses and last year's stock shortages show no sign of reappearing, we can't see it happening during the remainder of 2010."
A regional breakdown of the latest Rightmove data shows the West Midlands saw the biggest fall in asking prices, down 4.4%, followed by London with a 4.1% drop.
Prices rose in the North and East Midlands, by 2.6% and 1.5%, respectively.
Further reading/Key links
Valuation loophole: Free House Price Valuation
Cut home loan debt: Cheap Mortgage Finding
Latest house prices: Nationwide, Land Registry, Halifax