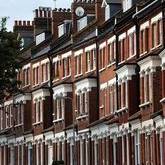 House prices remained broadly unchanged during September as activity in the market continued to be muted.
The cost of a home edged ahead by just 0.1% during the month, following a 0.8% slide in August, to leave the average property worth £166,757, according to mortgage lender Nationwide building society (see the Free House Price Valuation guide).
The quarter-on-quarter growth rate, generally seen as a smoother indicator of market trends, turned negative for the first time since May 2009, with prices falling by 0.9% during the three months to the end of September.
The group says the figure is consistent with market trends over the summer.
It stresses it did not point to a "significant pace of decline" in property values. The drop was well down on quarterly falls of 5.5% seen during the 2008 housing market slump.
'Prices could stay stable'
Yet a recent run of data has led many economists to predict house prices are heading for a double dip.
Martin Gahbauer, Nationwide chief economist, says the future direction of prices depends whether the strong flow of new properties coming on to the market continued into the autumn.
He says many new sellers may be testing the water in response to the price gains in 2009 and the end of Home Information Packs.
These people, he adds, are likely to have little urgency to sell, so house prices could to remain broadly stable.
Gahbauer adds: "The housing market would then be characterised by a stalemate situation with low levels of liquidity and little change in house prices."
But he warns: "If, on the other hand, most of the new sellers in the market are keen to sell more quickly, the recent slight downward trend in prices may continue."
Mortgages down
Today's figures come the day after Bank of England data showed the number of mortgages approved for house purchase slumped to a six-month low in August.
Approvals have been running at less than 50,000 a month since the end of the stamp duty holiday in December, well below the 70,000 to 80,000 economists consider necessary for stable house prices.
Nationwide's data showed house prices fell in all regions of the UK during the third quarter, apart from Northern Ireland, London, the outer metropolitan area and the outer South East.
Northern Ireland saw the strongest gain at 1.6%, followed by the outer metropolitan area at 0.7%.
But prices dipped by 3.4% in Scotland, while they were down by 2.7% and 2% in Yorkshire and Humberside and the South West respectively.
Further reading/Key links
Valuation loophole: Free house price valuation
Cut home loan debt: The Remortgage Guide, Free Mortgage Guide
Latest house prices: Nationwide, Land Registry, Halifax