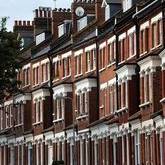 Rents have soared to a near two-year high as strong demand continued to push up the cost of letting a home.
Typical rents in Britain rose by 1.4% in the three months to the end of September to reach £851 a month, the highest quarterly level since November 2008, according to property website FindaProperty.com. While rents are rising as an average, they have fallen in some areas.
The average cost of letting a home has been rising steadily since January, with landlords now typically charging £47 more a month than at the beginning of the year – an increase of 5.8%.
The strong rise is being driven by an increase in demand for rented properties as prospective buyers put moving plans on hold due to the uncertain outlook for the economy and housing market, and the high deposits demanded by lenders.
The problem is exacerbated by a steep drop in the number of properties available to rent, with stock levels dropping by 14.5% during the third quarter to reach the lowest level since July 2008.
There are now 38% fewer properties available to let than when levels reached their peak in May 2009, when the market was boosted by so-called accidental landlords who were forced to rent out their property after being unable to sell it.
Demand at 8-year high
Separate figures released today by the Association of Residential Letting Agents show the number of people looking to rent a home had reached an eight-year high.
The group says letting agents across the UK reported a significant shortage of available rental properties as demand from tenants far exceeded supply.
Nigel Lewis, property analyst at FindaProperty.com, says: "Average rental prices are back up to where they were two years ago and I can only see them going up even further as would-be first-time buyers, simultaneously nervous about trying to buy and being priced out of the mortgage market, keep on renting.
"This is all putting increased pressure on the available rental stock, which pretty much makes it a landlord's market at the moment as they can effectively name their price."
London rents rising fastest
There are wide variations in the rental market across the country, with average rents soaring by 5.1% in London during the third quarter, while they were 3% and 2.6% higher in the South East and South West respectively.
The cost of renting a home in London has jumped by £208 a month, or nearly 13%, during the past 12 months.
But landlords in five regions were forced to cut their rents during the third quarter, with those in Scotland making the biggest reductions at 3.4%, while buy-to-let investors in Wales cut rents by 2.7%.
Further reading/Key links
Valuation loophole: Free house price valuation
Cut home loan debt: The Remortgage Guide, Free Mortgage Guide
Latest house prices: Nationwide, Land Registry, Halifax