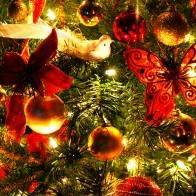 Millions of Christmas gifts are stacking up in warehouses and might not be delivered in time for the big day.
A backlog of more than four million parcels has built up as private carriers battle to overcome the bottleneck caused by the snow and ice (see the Last Order Dates guide).
Forecasters predict heavier snow showers today and into the weekend meaning things could get worse.
Simon Veale, director of Global Freight Solutions, says there is a chance "Father Christmas won't be coming to Scotland and the North East, with deliveries impacted elsewhere".
He adds: "Dealing with the backlog is like bailing water out of a sinking ship."
So what are your rights if goods don't arrive by Christmas?
While little can make up for a present failing to arrive on time, you have a right to a refund in a few scenarios.
If it is specified that goods you paid for will be delivered before Christmas or there is a specific delivery date, then you are entitled to a refund unless something in the terms and conditions allows retailers to escape liability because of the weather.
Otherwise, the retailer only has to deliver within 30 days to fulfil its end of the contract.
If you don't qualify for a refund under those conditions, and you've ordered online or by mail order, the Distance Selling Regulations mean you usually have a seven-day right of return regardless of the circumstances.
There are exceptions, such as where the item has been personalised or if it's a perishable item, such as flowers (see the Consumer Rights guide for more info).
Further reading/Key links
Xmas rights: Last Order Dates, Consumer Rights, Section 75
Cut costs: High Street Haggling, Cheap Online Shopping