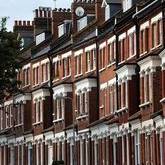 House prices rose by 0.8% during January as values bounced back, following the pre-Christmas snow disruption.
Mortgage giant Halifax says the average cost of a home in Britain went up to £164,173 last month, but this follows a 1.3% plunge in December as snowed-in buyers stayed away from the market.
On an annual basis, house prices were 2.4% lower in January, as measured by the average of the latest three months against a year earlier (see the Free House Price Valuation guide).
The falls are still far from the hefty declines in 2008, when the credit crunch saw quarterly drops of 5% to 6%.
Its quarter-on-quarter measure of house prices, seen as a smoother indicator of market trends, registered a drop of 0.7%, according to the group.
Halifax says 2011 house prices will be constrained by consumer caution, with spending cuts and tax hikes hitting confidence.
But it notes fewer sellers coming to the market would help support prices by shifting the demand and supply balance.
Martin Ellis, Halifax housing economist, says: "The prospects for the market in 2011 are closely aligned with the performance of the wider economy. Consumer confidence has fallen recently, partly as a result of nervousness about the economic outlook.
"On a positive note, there have been further signs that the recent downward trend in prices is causing homeowners to be more reluctant to put their properties on the market. This development should help to relieve downward pressures on prices as long as it is sustained."
Recent lending figures from the Bank of England reveal a dearth of mortgages taken out, with 2010 lending falling to its lowest level since records began in 1987.
Howard Archer, chief economist at IHS Global Insight, says today's rise in house prices was unexpected, coming after rival lender Nationwide reported a 0.1% month-on-month fall in January.
He says the hike was partly a correction after the fall in December, adding: "The 0.8% rise in house prices in January does not materially change our view that house prices are likely to fall by around 5% in 2011 and will end up declining by some 10% from their 2010 peak levels."
Speculation that the Bank of England may be forced to raise interest rates to combat soaring inflation is also expected to hit house prices, according to Archer.
Further reading/Key links
Valuation Loophole: Free House Price Valuation
Cut home loan debt: Free Remortgage Guide, Free Mortgage Guide
Latest House Prices: Nationwide, Land Registry, Halifax