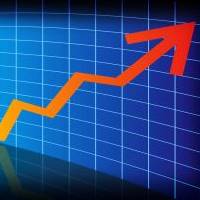 Pressure on the Bank of England to raise interest rates intensified today as inflation increased to its highest level in more than two years in January.
The increase in VAT from 17.5% to 20% and the soaring cost of fuel pushed up the cost of living.
The headline Retail Prices Index (RPI) rate of inflation rose from 4.8% in December to 5.1% in January.
The Consumer Prices Index (CPI), which does not include housing costs, rose to 4% last month, from 3.7% in December.
Today's CPI figure, the highest since November 2008, is double the Government's 2% target and is likely to throw weight behind the argument for hiking interest rates from a historic low of 0.5%.
CPI unexpectedly surged from 3.3% to 3.7% in December, prompting calls for an interest rate hike. But weaker-than-expected economic growth figures, revealing a 0.5% decline in gross domestic product in the final quarter of 2010, dampened this prospect.
The economy is in a fragile position – teetering close to a period of so-called stagflation, when sluggish growth and high unemployment combine with soaring prices. Last week, the Bank held the official borrowing rate for the 23rd consecutive month.
Economists had expected inflation to hit 4.1% in January, so it has come in slightly below expectations.
Contributing factors
The typical price of petrol, as recorded by the CPI, stood at £1.27 a litre in January 2011, a record high.
Other sectors that contributed to the rise included transport, restaurants and hotels, furniture and alcohol.
In transport, the price of new cars rose 2.4% between December and January, while used cars were up 2%.
The hike in VAT, brought in on 4 January, hit restaurants and hotels, which saw prices increasing 1.3% between December and January, and reached a record 4.5% rise on an annual basis.
Downward pressure on overall inflation came from falling clothing prices, as well as a drop in the cost of recreational activities, such as CDs and DVD purchases.
The City will be looking closely at the Bank's latest quarterly inflation report, published tomorrow, to determine when policymakers believe inflation will start to return to the 2% target or if and when interest rates are likely to go up.
Savings pain
High inflation means savers are effectively losing cash as even though the monetary value may be growing, if prices rise faster, that money will buy them less.
Imagine you've £1,000 in the top 2.9% easy access savings account, after (basic rate) tax you'd have £1,023.20 in a year – as you've earned £23.20 interest.
Now suppose that £1,000 is enough for ten weekly supermarket trips. If prices rise by 5.1% next year, you'd need £1,051 to buy the same goods.
Further reading/Key links
Best rates: Top Savings, Top Fixed Savings
Mortgage cost-cutting guides: The Remortgage Guide, First-time Mortgage Guide, Cheap Mortgage Finding, Ditch My Fix?
Get help: Mortgage Arrears, Redundancy Help