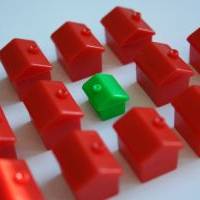 House prices increased modestly in March but the rise is unlikely to mark the beginning of a strong upturn for the market, Nationwide Building Society says today.
The 0.5% increase, which marked the third monthly increase within four months, left the average home costing £164,751 (see the Free House Price Valuation guide).
Meanwhile, the three-month-on-three-month measure of house prices, which is regarded as a better measure of the underlying trend, also showed a modest rise of 0.6% in March.
But Nationwide says prices are likely to move modestly lower during 2011.
Robert Gardner, Nationwide's chief economist, says: "The outlook remains uncertain but, all things considered, this is unlikely to mark the beginning of a strong upturn in prices.
"The economy entered a soft patch at the back end of 2010, and there have been few signs of a strong bounce-back.
"The jobs market remains challenging and Nationwide's Consumer Confidence Index suggests sentiment has fallen to an all-time low in recent months."
Gardner says demand is likely to remain fairly soft and a rapid increase in the supply of properties also appears unlikely.
He adds: "With the economic recovery expected to remain sluggish, the most likely outcome is that the property market will follow suit, with low transaction levels and prices moving sideways or modestly lower through 2011."
Annual house price inflation returned to positive territory in March, increasing 0.1%, compared to a 0.1% drop in February.
Further reading/Key links
Valuation Loophole: Free House Price Valuation
Cut home loan debt: Free Remortgage Guide, Free Mortgage Guide
Latest House Prices: Nationwide, Land Registry, Halifax