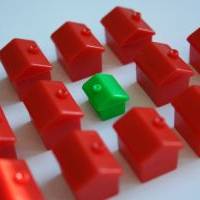 House prices edged 0.1% higher during March, but still fell by 0.6% over the past three months, figures from Halifax show today.
The minimal rise last month came after prices dropped 0.9% in February and eased the quarterly fall which is generally considered a more realistic view of the market (see the Free House Price Valuation guide).
The average UK house price stood at £162,912 in March, 2.9% lower than a year earlier as values continued to fall at their fastest annual pace since October 2009.
The three-month measure, suggests the market is showing some signs of stabilisation, according to experts.
The quarter-on-quarter fall in the first three months of this year was lower than in the third and fourth quarters of 2010, when prices fell 1% and 1.1%, respectively.
Halifax says improvements in the UK jobs market are likely to have offered support.
Recent official figures showed the number in employment rose by 32,000 in the three months to January as more people secured full-time jobs.
'Price drop likely'
But the lending giant cautioned that Government austerity measures and concerns over the wider economy are expected to hamper progress in property prices this year.
It is forecasting a 2% fall in values over the year as a whole.
Martin Ellis, housing economist at Halifax, says: "Uncertainty over the general economic outlook and individual financial circumstances are likely to constrain housing demand, resulting in some modest downward pressure on prices."
Today's figures are broadly consistent with data last week from Nationwide, which reported a 0.5% increase in March.
But Howard Archer, chief economist at IHS Global Insight, says forthcoming pressures "do not bode well" for house prices.
"We suspect that the tighter fiscal policy really kicking in from April and likely gradually-rising interest rates will exert downward pressure on the housing market," he says.
Further reading/Key links
Valuation Loophole: Free House Price Valuation
Cut home loan debt: Free Remortgage Guide, Free Mortgage Guide
Latest House Prices: Nationwide, Land Registry, Halifax