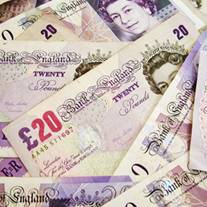 Households are facing the biggest peace-time squeeze in their spending power since 1921 as wages fail to keep up with soaring inflation, according to a new report.
The rising cost of essential items such as oil, utility bills, food and clothes are set to leave the average household with £910 a year less to spend in 2011 than two years ago, says the Centre for Economics and Business Research (CEBR).
Disposable incomes are due to fall by 2% in 2011, following a 0.8% drop in 2010, as cash-strapped consumers suffer the biggest hit to their finances since World War Two.
It forecasts that inflation will average 3.9% in 2011 – its highest since 1992 – as January's hike in VAT to 20% from 17.5% and the rising cost of oil and other commodities continue to drive up prices.
Pay packets, on the other hand, will rise just 1.9% as unemployment remains high and the public sector makes cut-backs.
But the Government's austerity drive is "only a minor element in the squeeze on household incomes", with the soaring cost of commodities being the major factor, claims the report.
Commodity prices are being driven higher by surging demand from emerging economies such as China and supply shocks including the conflict in Libya, which is impacting the price of oil.
The lack of consumer spending power means the economy will only grow by 1% in 2011 and will be "subdued" for the next two or three years, says the consultancy. Its forecast is significantly below the 1.7% predicted by Government's Office for Budget Responsibility.
The CEBR's report echoes the views of Bank of England governor Mervyn King who earlier this year said consumers' finances were facing their biggest squeeze since the 1920s.
Further reading/Key links
Plan for redundancy: Redundancy Help
Take action: Debt Problems
Get what you're entitled to: Benefits Check Up