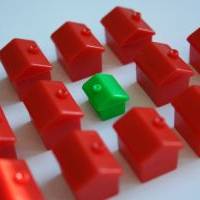 Homeowners considering remortgaging were today told to sit tight as commentators predict fixed-rate deals have further to fall.
A number of lenders have cut the cost of fixes in recent days, after a run of economic data has made an imminent rise in interest rates appear less likely than previously thought.
Earlier this year, the Bank of England's Monetary Policy Committee had been widely expected to increase the cost of borrowing from its record low of 0.5% this month, to rein in soaring inflation.
But figures showing gross domestic product rose by just 0.5% during the first quarter, combined with a surprise fall in inflation during March, have caused economists to push back forecasts for future rate hikes until August at the earliest.
This change in opinion has had a knock-on affect on swap rates, upon which fixed rate mortgages are partially based.
Two-year swaps have fallen from 1.91% in early April to 1.58% now, while five-year ones are 0.41% lower at 5.68%.
Figures from financial information group Moneyfacts show the average cost of a two-year fixed rate mortgage has dropped to 4.5%, down from 4.58% in March, while five-year fixed rate loans now average 5.62%, compared with 5.66% two months earlier.
Barclays' lending arm, the Woolwich, and nationalised bank Northern Rock both announced they were slashing the cost of their fixed rate mortgages today, with Barclays cutting some of its rates by up to 0.1% and reducing arrangement fees, while Northern Rock has cut its deals by up to 0.57%.
A number of smaller lenders have also trimmed their rates, and other major players are expected to follow suit during the coming week.
Ray Boulger, senior technical manager at broker John Charcol, says: "People looking for a fixed rate mortgage should sit tight because I think we are going to see rates get a bit lower.
"There has been quite a marked change in outlook among economists, with most putting back forecasts for rate rises until at least August, or even November.
"I think we will see swap rates fall further, with five-year fixed rates becoming available at below 4%. There is no rush to switch in my view."
The latest advice is a far cry from what mortgage brokers were suggesting in January and February, when they urged those who wanted to move on to a new deal to act fast before it was too late.
Boulger says: "That advice was absolutely right at the time. Five-year fixed rate mortgages of 3.69% were available. The cheapest rate now is 4.39%. If you got in at below 4%, you got in at a good rate."