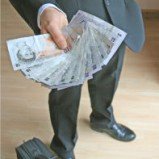 Households may have suffered their biggest drop in purchasing power for 30 years, a leading economic think-tank warned today.
A toxic mixture of lower pay and soaring inflation – currently at 5.3% – is contributing to the pain many are suffering.
The Institute for Fiscal Studies says analysis of new official figures suggests it 1s "entirely possible" that typical incomes dropped by 3% in 2010-11.
Such a fall would leave income levels back where they were six years earlier, the IFS says.
Analysis is based on household income data for 2009-10 shows median incomes continued to grow by 1.6% – following similar sluggish growth the previous year – despite the effects of the recession.
However, the IFS warns these increases are likely to have "more than unwound" in 2010-11 as the long-term effects of the recession are felt and higher inflation erodes living standards.
It says data already available for the first 11 months of 2010-11 showed earnings fell by 3.8%, while its forecasts pointed to a fall in median incomes of around 3%.
"The trends in earnings and benefits suggest that such a fall is entirely possible," it says.
"And were such a fall to be found in next year's data, it would represent the largest fall in median incomes since 1981, leaving median income close to its level in 2004-05."
IFS research economist Wenchao Jin says the latest DWP figures "tell a story of pain delayed, but not pain avoided".
Work and Pensions Secretary Iain Duncan Smith says: "These figures lay bare the growth of income inequality in the UK which is now the highest it has ever been.
"This gap between the poorest and richest in our society has accelerated over the last five years despite an astonishing £150 billion injected into tax credits alone.
"The end result has been to make benefit dependency and worklessness inherent to the UK way of life with middle and low-income earners picking up the bill."