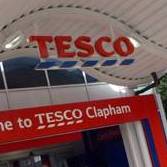 Tesco has agreed to re-open a temporary 'double the difference' window after shoppers saw an ad that wrongly said the promotion was back.
The supermarket said yesterday the price guarantee against grocery baskets from Asda is dead for good despite an advert in The Sun on Tuesday stating it's still alive.
Instead of getting double the difference back, consumers will normally only get the difference – after the offer was watered-down last month – if they find their shop would have been cheaper at Tesco's big rival.
Yet it has now had a change of heart of sorts after what it calls a "third party" printing error.
Nevertheless, consumers were left bemused yesterday by mixed messages from the supermarket giant.
A tweet by Tesco yesterday morning suggested it would honour double the difference due to the gaffe but this was dismissed by the firm's press office as an error.
However, last night it confirmed it would, after all, honour the ad for a limited period and for a limited amount.
Tesco blamed shoppers for scrapping double the difference in April after many made money out of the scheme by identifying cheaper items at Asda before buying.
Double the difference window
A Tesco spokesman says: "We appreciate this advert may have caused confusion and disappointment and therefore Tesco is happy to check receipts from shops on Tuesday 17 May and up to 5pm on Wednesday 18 May and refund double the difference up to £20."
Here's what you should do, if eligible:
Enter your receipt into the Tesco Price Check website as normal. This must be done by Sunday 29 May to qualify for double the difference.
You will then get a voucher for just the difference.
Then post the original receipt, a note of your email address and the date it was entered into Price Check. Tesco needs this on or before Monday 6 June. The address is: Price Check Team, Tesco House, Maes-y-Coed Road, Cardiff, CF14 4TT.
You'll be sent a 'Tesco Moneycard', which is a prepaid card, for the original voucher amount up to the £20 limit, plus the cost of a second class stamp, within two weeks.
How does Price Check normally work?
Tesco uses the value of your basket of goods and checks if it would have been cheaper at Asda.
The guarantee is only available on comparable grocery items that are either exactly the same or of similar quality.
In addition, items bought at Tesco Express, Tesco petrol stations and Tesco Homeplus stores are excluded from any comparison.
You need to enter the code on your receipt into the Tesco Price Check website within 28 days of purchase or delivery. Tesco will reply with the result of whether you're due a refund.
If so, you will get a voucher for the difference to use at Tesco, within the stated limits.