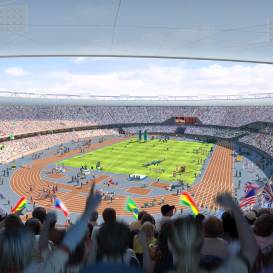 It's second chance Friday; as those who applied for London 2012 Olympic tickets and didn't get any can rebid today. We asked MoneySavingExpert.com creator, Martin Lewis, for the lowdown.
Q. You've been a vocal critic of the system from the start - why?

M: I think the system was designed to maximise ticket sales to the detriment of consumers (see Martin's Olympics ticketing system – a psychic booking process that's anti-consumer blog).
This wasn't just due to the heavy ticket prices, but because when booking you had no idea whether, if you bid for ten events, you were likely to get none, two or all 10 tickets. In other words, it required psychic ability to get it right.

Therefore, to get the best chance of guaranteeing a ticket the only option was to bid for lots of them.
This meant the whole thing was skewed in favour of wealthier people, as they could risk over-bidding to secure tickets, leaving those who couldn't afford to take the gamble out in the cold.
Q. How would you have done it?

M: There are lots of things I'd have done differently, but firstly I would've had people bid without being committed to paying. Then I'd have given people a small window of time in which to pay, so people wouldn't risk large amounts of cash coming from their accounts.

I'd also have ensured people knew the difference in seats, as we are currently asked to pay more without any indication of what we get. In any other commercial transaction they wouldn't get away with that (see Martin's Is the Olympics sponsored by Wonga.com? blog).
Q. Who can bid today?
M: To be able to bid from today (6am) until 3 July you need to have applied for tickets and been rejected for all of them.
If you are going to bid, especially for the few remaining seats in popular events such as athletics, speed is absolutely necessary, as it's first come first served. You are only allowed to apply for a maximum of three events.
Q. Am I allowed to buy some and sell them to friends?

M: Yes, you can buy some tickets and re-sell to your friends or family. For example, if you bought four tickets, you could sell two tickets to your friends if you were one of the four going. Or for example, you could buy two tickets and sell them both to friends without you needing to be there yourself.
Of course if you buy an industrial number and don't sell them at face value you may be done for touting.
Q. Will any more tickets be available if I haven't applied at all?

M: Yes, the London Organising Committee has announced over a million further tickets will be released from December 2011, which should be available right up until the Olympics.
These will also be available to those who didn't originally apply for tickets. Yet there are no details on the process as yet. These tickets are those that have been pre-allocated and not taken.
Q. What about people who got tickets, but not those they wanted. Can they rebid?
M: I'm in this boat myself; I've got tickets for the likes of archery, which is good, but not for any of my dream-watch athletics events.

The official system here is you will be able to apply from 6am on 8 July to 6pm 17 July. Although, again you are only allowed to apply for a maximum of three events.
Yet, with 1.2 million of the 1.9 million people who applied not getting any tickets at all, and just 2.3 million tickets on sale (ie, less than a pair per person bidding), there could only be the runt of the litter left.
Also, the 2.3 million tickets available in this second re-sale will cover both the sale for those who didn't get any tickets (from today until 3 July) and the sale for those who want further tickets.

So, if you're in this boat, it's worth finding a friend who got rejected for all their tickets and seeing if they'll bid for you.
Q. What if you end up with tickets you don't really want?
M: If you are no longer able to use the tickets you have been allocated or you just don't want them, you will have the opportunity to resell them at face value through the official London 2012 ticket resale programme in 2012.
So there is a cash flow issue in that you won't get a refund until your ticket gets re-sold next year. Further details will be announced in early 2012.
Q. How can I avoid unauthorised sites and touts selling tickets?
M: London2012.com is the biggest official seller of tickets but if you're concerned about fraudulent sites you can check on its site whether or not the site you're looking to buy from is genuine or fraudulent. The London 2012 website also lists bogus email scams, which you should watch out for.
If you are worried you have been a victim of fraud, you should contact the police.
Q. Is it much easier to purchase tickets if you live on the continent?

M: In Europe people have been able to simply go to websites and buy tickets – making it a two tiered system, which has upset many. Some people in the UK have taken advantage of this by buying tickets, sometimes at a premium, from European sites.
It's also possible to buy ticket holiday packages, but these are expensive. Most of the European tickets agencies seem to have passed their period of pre-registration, making this difficult now. Also, be very careful of fraudulent sites promising this.