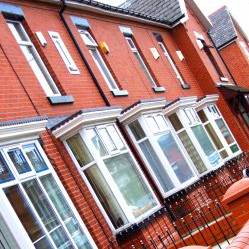 Average monthly rents in England and Wales burst through the £700 barrier last month as a shortage of new homes and mortgage constraints fuelled tenant demand.
Data for June from letting agent LSL Property Services showed the average rental costs section of its buy-to-let index rose by 0.7% to £701. The annual monthly rent is now 4.1%, or £28, higher than this time last year.
Key Points
Average monthly rent in England and Wales now £701
In London, it's £1,006
Lack of homes + mortgage constraints fuelling tenant demand
LSL says competition for properties in some areas is so fierce that they are snapped up the day they come on to the market, especially in London where average monthly rents broke through the £1,000 mark this month at £1,006.
David Newnes, estate agency managing director of LSL Property Services, says: "We've had five successive months of rent rises, but there is no sign of a let-up anytime soon. Despite several new deals on the market, securing a big enough mortgage remains a tall order for the average buyer."
He adds: "The climbing cost of living and renting is impacting how much renters can save for their deposit, and demand will remain high in the short-term."
Landlords are as a result getting much tougher with tenants showing signs of payment difficulties, LSL adds, and are looking quickly to replace those who fall behind with the rent.
Arrears decreased for a second month running in June, with the unpaid total at £257 million, down from £315 million in May, but LSL expects this trend to reverse in coming months as the full impact of public sector job losses comes through.
London saw the biggest increase in rents over the past year with a 6.9% rise, but the North East and West Midlands also saw big hikes at 5.1% and 4.6% respectively.
Rents were only lower year-on-year in the East of the country, but rents are rising here as well with last month seeing a 1.6% increase over May.