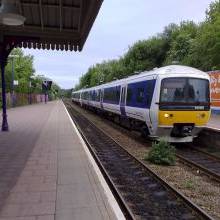 Hard-hit rail commuters face more misery today as inflation figures reveal rail fares will increase by an average of 8% in the new year.
Key Points
Misery for commuters as rail fares to rise 8% for most
Hike based on RPI inflation + 3%
Previously, it was RPI + 1%, meaning greater jumps
In some instances, passengers could face 13% hikes.
The July retail prices index (RPI) rate of inflation, which was announced today as 5%, is used to determine the following January's annual rise for regulated rail fares, which includes season tickets and long distance off-peak fares.
Previously, the formula for regulated rail fare increases has been RPI inflation plus 1%, but for the next three years it is RPI plus 3%, meaning far steeper rises for commuters.
As the rate of RPI inflation was unchanged at 5% in July, as announced this morning, fares will increase by an average of 8% in January.
However, as this is an average figure, they could jump by up to 13% for some, as train firms are allowed a 5% swing either way, though this means others will see far less steep hikes.
Fair Fares Now campaigners, led by the Campaign for Better Transport, were at London's Waterloo station earlier today to demonstrate against the hike.
The campaign is backed by the RMT transport union, which said in a report that rail privatisation had "bled £6.6 billion out of the rail industry since 1997".
Unregulated fares, which include cheap advance tickets and peak time tickets, are determined by train companies rather than the Government.
The Association of Train Companies (ATOC) says firms will base rises on market conditions and a decision on new year prices will be made over the next three months.
High inflation
Elsewhere, the wider consumer prices index (CPI) rate of inflation increased to 4.4% in July, from 4.2% the previous month.
The pressure on commuters comes at a time when all households are seeing their budgets squeezed by high inflation and muted wage growth, with utility price hikes announced by major energy suppliers including British Gas and Scottish Power.
Clothing and footwear increased by 3.1% on an annual rate, the highest annual surge since records began in 1997, the ONS says.
Housing, water, electricity, gas and other fuels increased by 4.6% on an annual basis, the highest increase in two years.
Food bills were 0.3% higher month-on-month and 6.2% higher compared with a year ago, while alcohol and tobacco were 0.6% higher on a monthly basis and 10.3% higher than last July.
Elsewhere, while clothing, furniture and household goods prices fell on a monthly basis compared with June, the decrease was much smaller than a year ago, applying upward pressure on the overall cost of living.