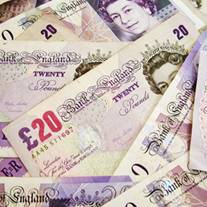 Inflation matched its record high last month, meaning greater state benefits, but it also highlights the tough conditions faced by many households.
The rate of consumer prices index (CPI) inflation in September, which is used to determine next April's rise in state benefits, rose from 4.5% to 5.2%, which equals the record high in September 2008, the Office for National Statistics (ONS) says.
Next year's benefit rates are not formally unveiled until later this year, but this means the basic single state pension will increase by £5.31 to £107.46 a week, while the joint state pension will increase by £8.49 to £171.84.
Employment benefits, such as jobseeker's allowance (JSA) and income support are also calculated using the September CPI rate, meaning JSA will increase by £3.51 to £71.01 a week.
The higher-than-expected surge was driven by a jump in utility bills, as gas and electricity increased 13% and 7.5%, respectively, following price hikes from major energy providers.
The increase in state benefits will put more pressure on Chancellor George Osborne, who is battling to slash the nation's budget deficit, as unemployment hit a 17-year high of 2.57 million in the three months to August.
It will be the first time the uprating in benefits is calculated using CPI rather than the retail prices index (RPI) rate of inflation, which rose from 5.2% to 5.6% in September, which is the highest rate in 20 years.
If the calculation was still based on RPI, the single state pension would have been £108.42 and the joint one would have been £173.36.
RPI is generally seen as a more accurate indication of the inflation as, unlike CPI, it includes housing costs.
The CPI inflation rate also underlines the increasing squeeze on household incomes after figures last week revealed weekly earnings grew at just 1.8%.
Higher Isa limits
The Treasury has also today announced that the limit for standard Isas will rise to £11,280 in April next year, up from the current £10,680 limit, as a result of September's inflation figures.
However, only half of this can be placed in a cash Isa, which is a tax-free savings account.
This means from April the full £11,280 can be invested in a stocks and shares Isa, and up to half of this at £5,640 (up from this year's £5,340) can be saved tax-free in a cash Isa.
Government help
A Treasury spokesman says: "The Government is taking action to help consumers with current high costs, including cutting fuel duty and freezing council tax, and the Prime Minister met yesterday with energy suppliers to discuss how to bring down customers' energy bills."
Housing, water, electricity, gas and other fuels increased 8.6%, the highest increase in two-and-a-half years, the ONS says.
Elsewhere, consumers were facing pressure from a record increase in communication costs, up 0.9%, which was driven by charges from mobile phones and cable telephones.
Air fares reported a 21% drop, but this compared to a larger 28% plunge last September, so this exerted further upward pressure on overall prices.
Elsewhere, restaurant and hotel bills hit a record high, increasing 4.7%.
The only downward pressure came from clothing prices, which rose 4.4% compared to a 6.4% record surge last year.
The figures are unlikely to overly concern the Bank of England, which has already forecast inflation to rise to 5% this year and recently increased its quantitative easing (printing money) programme in a sign that growth problems outweighed the threat inflation poses to the economy.