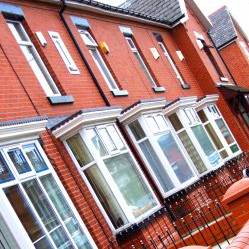 Rents in England and Wales reached a record high of £718 per month in September, a report found today.
LSL Property Services' Buy to Let Index shows the new figure surpassed the previous record high of £713 seen in August.
Key Points
Rents reached record high in September
Rose to £718 per month in England and Wales
Surpasses previous record high set in August
The lettings agent network, which includes chains Your Move and Reeds Rains, recorded a 0.7% rise last month.
It says that with annual rental inflation at 4.3%, the average rent is £29 per calendar month higher than a year ago.
David Newnes, estate agency managing director of LSL Property Services, says: "It's not just a regional phenomenon, localised to London and the South East, rents are rising across the board.
"In areas of the highest demand, such as the capital, competition is driving up rents at a faster rate, but no region has been immune to the growing demand for rental homes from frustrated buyers.
"In many cases, buying a home is now cheaper on a monthly basis, provided renters can get past the stumbling block of the substantial deposit requirements.
"For the majority, saving a £25,000 deposit is a Herculean task as inflation and rents climb and most would-be buyers are biting the bullet and prolonging their stay in increasingly costly rental accommodation."
Regional rent increases
On a monthly basis, rents rose in all regions of England and Wales for the first time in the history of the property index, which has been running for just over three years.
They hit record highs in six regions: London, the South East, Yorkshire and the Humber, the East of England, Wales and the East Midlands.
Rents increased the fastest in the South East and the East Midlands, where they rose by 1.8% and 1.1% respectively compared with August.
Despite the price rises, tenant arrears dropped to their lowest level since April 2010. Just 8.6% of rent was unpaid or late by the end of September, down from the 10.7% of rent unpaid or late in August.
Unpaid rent totalled £243 million in September, down from the £300 million unpaid in the previous month.