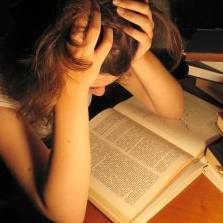 University applications for 2012 are down, figures from admissions body UCAS show, with the fall attributed to a misguided fear over higher fees.
Applicants for all courses have fallen from 76,600 to 69,700, by 9%, compared to those received this time last year.
The total number of applicants for courses with a 15 October deadline (Oxbridge, medicine, dentistry and veterinary medicine/science courses) has fallen by 0.8%, from 56,080 to 55,600.
Applications from mature students have also fallen compared to the 15 October deadline last year.
Annual fees will jump to up to £9,000 for the next academic year, starting in September 2012, compared to a current maximum £3,465 now.
The figures come ahead of the first ever national Student Finance Day on 14 November, which across England will see universities, unions and student money advisers combine to fight confusion, undue fear and ignorance about the 2012 changes.
'War against confusion'
Martin Lewis, head of the Independent Taskforce on Student Finance Information and founder of MoneySavingExpert.com, says: "We need to launch a war against student fee confusion.
"Fear of the changes is almost certainly one of the main reasons behind the drop in early applications – yet there's still time to reach those who've been unnecessarily put off. The frustration is that it's often based more on psychological factors rather than the likely practical impact on students' pockets.
"Few understand that uniquely with student fees, the price tag and cost are de-coupled. While the horrific headline total fees and living loans combined can be over £50,000, the actual repayments depend solely on earnings.
"This means many people will repay a fraction of this amount, while some higher earners will repay many times more.

"We need to help students and parents sit down and truly understand the real impact on them, protected from the political spittle being flung from both sides. After all, if you don't know the true cost, how can you decide if it's worth going to university?"
Student finance 2012 – 10 quick facts
The changes ONLY hit new September 2012 undergraduates. The new maximum £9,000-a-year tuition fees for full-time students are only for new 2012 starters. Existing students and 2011 starters stay on the current system, with fees at a maximum of up to £3,465 a year.
You don't need the cash to go to university. Fees are automatically paid by a Student Loans Company loan. There are loans for living costs too.
You only repay if earning over £21,000. Full time students' repayments start the April after graduation at a rate of 9% of everything over £21,000.
Loans are wiped after 30 years. If the loan hasn't been repaid within 30 years, the debt is cancelled and you owe nothing. Therefore, those who never earn over the threshold, will never repay.
There are no debt collectors. Repayments are collected via the payroll from employers, like tax. This means there will be no debt collectors chasing repayments.
Repayments are £540/year LOWER than now. Current graduates repay 9% of earnings above £15,000. The new threshold's £21,000 (which will rise with average earnings), so while repaying, future graduates will have more disposable income.
You will owe money LONGER and may pay MORE. Compared to current graduates, under the new scheme, as you repay less each year, the original debt's bigger. Plus, you pay higher interest, so it'll take MUCH longer to repay the loan than now, and depending on earnings, may cost more than now.
Many will NEVER pay it all back. Many starting even on £25,000 salaries won't repay all owed within 30 years, meaning they'll repay for much of their working life, and won't need to repay everything owed.
Monthly repayments are the same, whether fees are £6,000 or £9,000. The course fee size doesn't impact monthly payments as they're set at 9% of earnings above £21,000.
Many won't pay any more in total on £6,000 courses than £9,000. As many students, even those starting on salaries as high as £30,000, may not repay their combined fees and living loan at the £6,000 fee level before it clears after 30 years, there is no increased cost to them of taking a £9,000 fee course.