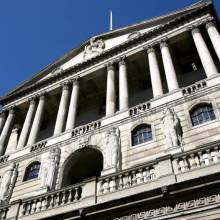 The Bank of England today announced it is holding the base rate at its 0.5% historic low for the 32nd consecutive month.
The stable base rate is good news for borrowers, with mortgage rates having recently hit an all-time low.
However, the extended period of lower lending costs spells more misery for pensioners and savers who will continue to suffer low returns on their money, at a time when high inflation is eroding the value of their deposits.
Meanwhile, the Bank resisted further emergency action today despite fears that the economy will go into reverse by the end of the year.
The Bank's Monetary Policy Committee (MPC) maintained its quantitative easing (QE) programme at £275 billion after October's increase. QE is effectively the printing of money.
The MPC announced last month plans to pump an extra £75 billion into the economy through QE amid signs the recovery was faltering, and while the picture in the UK and eurozone has worsened, economists do not expect further action until early next year.
Today's decision came as the European Commission slashed its growth forecast for the UK this year to 0.7% from 1.1% but said there were better prospects for exports.