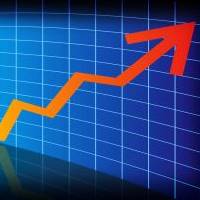 The UK's economic recovery hopes were boosted today when official figures revealed the pace of growth accelerated faster than expected in the third quarter of 2011.
GDP increased by 0.5% in the three months to the end of September, representing an improvement on the 0.1% rise in the previous quarter, according to the Office for National Statistics.
Economists had predicted a figure of between 0.3% and 0.4%.
The figures will help ease some of the fears about the strength of the recovery after the economy effectively flatlined over the previous nine months.
But the growth is still below its long-term average and economists warn the latest figures were flattered as GDP played catch-up after the previous quarter, which was hit by one-off factors such as the royal wedding.
Chancellor George Osborne has come under pressure to reassess his deficit-busting plan amid plummeting consumer confidence, spiralling inflation and high unemployment.
Howard Archer, chief UK and European economist at IHS Global Insight, says the third quarter performance overstates the underlying strength of the economy.
He says: "Growth was clearly lifted in the third quarter by the making up of some activity lost to one-off distorting factors in the second quarter. We expect the economy to essentially stagnate in the fourth quarter."
Last month the Bank of England pumped £75 billion into its quantitative easing programme, which is effectively the printing of money, bringing the total level to £275 billion, amid concerns over the threat the struggling world economy poses to the UK.