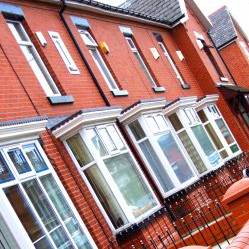 House prices rose by 1.2% last month as the property market continues to weather the economic storm, mortgage lender Halifax said today.
The performance means the UK's average property price of £163,311 is marginally higher than at the end of last year.
Halifax housing economist Martin Ellis says the prospect of low Bank of England interest rates continues to support the market.
He adds: "The housing market has proved highly resilient in recent months despite the weak economic recovery and the deterioration in the outlook for both the UK and global economies."
The market has followed a mixed pattern so far this year, with five monthly rises, four falls and one month of no change.
Prices for the quarter to October were 0.3% lower when compared with the previous three months, Halifax adds.
Howard Archer, chief UK economist at IHS Global Insight, says that, while October's performance was a surprise, he expects prices to fall by 5% from current levels by mid-2012.
He adds: "We believe that there are serious downside risks to this forecast and that house prices could well fall by more than 5% given the current deteriorating economic situation and outlook."