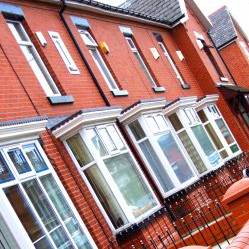 The housing market has remained "surprisingly resilient" this month, Nationwide said today, as the average price of a property increased by 0.4% month-on-month.
The price of a typical home was £165,798 in November, 1.6% higher than a year ago, Nationwide says, following a 0.8% year-on-year increase in October.
Key Points
House prices rose 0.4% this month
Price of a typical home was £165,798 in November
But demand conditions remain subdued
The figures come shortly after the Government revealed proposals to underwrite mortgages for first-time buyers as part of efforts to "unstick" the housing market.
But Robert Gardner, Nationwide's chief economist, warns that the slow growth forecast for the next couple of years is likely to weigh on the market.
He says: "House prices have remained surprisingly resilient in recent months, despite the deterioration in the economic outlook.
"But, with the UK economic recovery expected to remain sluggish well into 2012, house price growth is likely to remain soft, with prices moving sideways or drifting modestly lower over the next 12 months."
Demand remains subdued
Fears have been growing of a "perfect storm" in housing, with construction at its lowest since the Second World War, mortgage lending tightly restricted, and rent and purchase prices stubbornly high.
Nationwide says that despite the rise in prices in November, demand conditions remain "extremely subdued" in the UK, with the number of housing transactions and mortgage approvals still well below levels seen before the financial crisis.
The lender says high unemployment, slow wage growth and weak consumer confidence would continue to weigh on the sector and house prices.
The Government earlier this month unveiled a mortgage indemnity scheme which will allow people to purchase newly-built homes with deposits of around 5% at lower rates rather than the 25% regularly demanded by commercial lenders for the top rates.
More public land is also being made available for development, money has been earmarked to bring empty houses back into use, and there will be new mechanisms for older people to release equity from their homes.