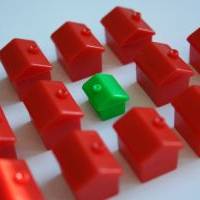 It could be tougher to get a mortgage over the next three months, a Bank of England survey of lenders has found.
Lenders predict the credit scoring criteria for granting loan applications will be tightened in the first three months of this year, meaning approvals will drop in the next few months.
Only those with the very best credit histories may be able to get funding for a property purchase.
The report says some lenders believe disposable household income could fall, meaning fewer would be able to afford new mortgages.
Households have seen their budgets squeezed due to high living costs and the failure of wages to keep up with rising bills, amid a backdrop of deteriorating employment conditions.
The number behind on payments also fell slightly in the last three months of last year, despite previous predictions of no change.
But some lenders note the "depressed" housing market had made it harder for them to claw back any losses.
The report is further worrying news for those seeking a mortgage after the Bank of England warned last month that costs are likely to rise.
The typical two-year fixed rate mortgage has already risen from 4.16% in September to 4.24% today, according to data provider Moneyfacts.
Despite the tough economic backdrop, the Bank's quarterly credit conditions survey says lenders are planning to launch more innovative deals, particularly for those who have smaller deposits.
This could help first-time buyers, who have found themselves trapped in the rental sector. Last autumn, they fell to their lowest proportion of the housing market for nearly three years.