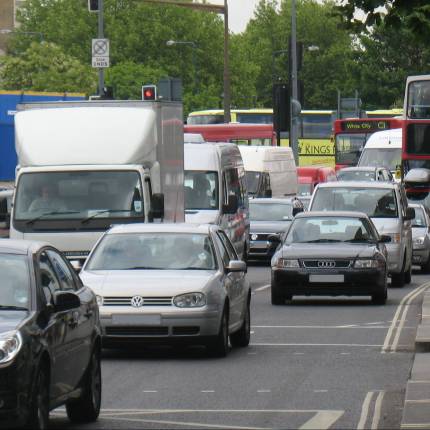 Action is expected to be taken to reduce the £2 billion-a-year cost of insurance claims for whiplash in a bid to help cut the prices we pay.
The Prime Minister is today hosting a summit with insurance, consumer and business groups at Downing Street to discuss ways to bring down soaring premiums.
Key Points
PM today hosting summit on soaring car premiums
Rising whiplash claims upping insurance costs
Action expected to deal with 'compensation culture'
A report released by the House of Commons Transport Committee last month said that the increase in claims for whiplash injury is the main cause of the rise in motor insurance premiums.
According to the AA, the cost of motor insurance jumped by 15.3% in 2011, with a typical policy costing £971 last month.
Britain has become "the whiplash capital of Europe", Number 10 says, with 1,500 claims a day for even the most minor accidents adding £90 a year to the average bill.
Ministers are examining recent calls by the Commons Transport Committee for a higher threshold, using factors such as speed or more extensive medical evidence.
Other issues to be examined are the wider use of in-car monitoring of young drivers, reform of the "no win, no fee" system and reducing lawyer fees for small personal accident cases.
Concerns raised by businesses that they are being forced to go far beyond legal minimums in order to secure insurance cover will also be discussed.
'Compensation culture pushing up premiums'
Cameron is expected to say: "I am determined to tackle this damaging compensation culture which has been pushing up premiums.
"I want to stop trivial claims, free up businesses from the stranglehold of health and safety red tape and look at ways we can bring costs down.
"The insurance industry plays such an important part in all our lives, it is there to help when we are at our most vulnerable and at greatest need. But I want to ensure that we all do what we can to help people through this difficult time."
Shadow transport minister John Woodcock says: "The vast majority of motorists drive responsibly and yet continue to be hit by eye-watering increases in insurance costs, in part due to the sheer number of dodgy whiplash claims.
"Motorists are already feeling the squeeze from the VAT hike on fuel and want to see less talk and more action from this out-of-touch Government.
"Getting insurance costs under control requires the Government to bring forward concrete proposals and as a start support Labour's proposal to limit whiplash claims."
'Urgent action needed'
Otto Thoresen, director-general of the Association of British Insurers, says: "This is a unique opportunity to highlight to the Prime Minister the unacceptable cost pressures that insurers are facing, and what needs to be done to ensure that the UK's honest motorists get a better deal.
"The cost of motor insurance reflects our society where it is all too easy to make spurious and exaggerated personal injury claims, where excessive legal costs can outstrip compensation awards and that tolerates the high levels of deaths and serious injuries involving young drivers and their passengers.
"Urgent action is needed to tackle the surge in whiplash claims which now cost insurers £2 billion a year and push up premiums for all motorists.
"Tackling these issues will bring down motor premiums. Insurers are committed to this, but we need help from the Government.
"Today's summit can provide the impetus to ensure motorists get the best possible insurance deal."