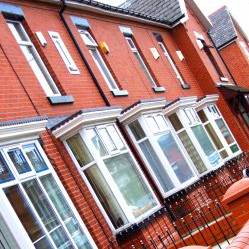 Rents are back on the rise "unseasonably early" this year, lettings agents said today.
The typical rent rose by 0.1% in January to £712 a month in England and Wales, the first month-on-month rise since October, according to LSL Property Services, which owns chains Your Move and Reeds Rains.
Key Points
Typical rent rose 0.1% in January to £712 a month
First month-on-month rise since October
Further rent increases predicted
This also marks the first time there has been a rent rise in the month of January since the records began in 2008.
The market saw a boom last year as trapped renters were unable to raise the deposits needed to get on the property ladder, although rents eased back slightly towards the end of 2011.
David Newnes, director of LSL Property Services, predicts more rent increases as housing market transactions remain low.
He says: "The rental market burst back into life unseasonably early in January, with tenants on the move trying to take advantage of what is usually a quieter period for the rental market.
"The depth of the underlying demand sustained a higher level of competition for rental property during the Christmas period, preventing more severe falls in rents than we'd normally see during the period."
He adds: "Mortgage lending has shown signs of improving in recent months, but transactions remain at almost half their historic levels, and the increasing dependency on rental accommodation will drive further rent rises over the long-term."
Tenants are also staying put for longer amid the rent hikes, typically renting homes for a "record" duration of 19 months, the Association of Residential Letting Agents (Arla) said this week.
Rental arrears up as finances squeezed
Rental arrears generally are also running at higher than the long-term average and are expected to get worse due to unemployment.
In January, 10.7% of all rent was late or unpaid at the end of the month, a figure largely unchanged from December but above the 10.2% average for the previous 12 months.
Newnes says the high proportion of "financially robust" renters who have been unable to buy their own house has helped to prevent tenant arrears from going "through the roof" as household finances have been squeezed and the labour market has weakened.
But he cautions: "The flip-side is that the higher level of arrears is being driven by a small minority of the market.
"Those who have seen their employment situation change are contributing to a higher proportion of arrears cases."
He says that with more job cuts forecast for this year, this type of struggling tenant is likely to increase in the short-term.