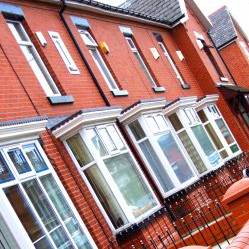 House prices dipped by 0.2% in January, with analysts predicting the market could tilt further in buyers' favour over the coming months.
The typical house price is £162,228, following the second monthly drop in a row after a 0.2% fall was also recorded in December, Nationwide's latest house price index says.
Key Points
House prices fell 0.2% in January
Typical house price is £162,228
Prices likely to drop modestly or move sideways in near future
A lack of new homes coming to market means prices are likely to either stay the same or drop slightly in the near future, it adds.
Buyers are being offered some of the cheapest ever mortgage deals, with initial mortgage payments running at their most affordable level since 2003.
But Nationwide says the weakness in demand from buyers is partly due to the troubles many face in finding a deposit, with household budgets under intense pressure from high living costs and deteriorating employment conditions.
Borrowers are also expected to have a tougher time raising a mortgage this year as lenders tighten their criteria amid the weak economic backdrop.
'Trickle of properties'
Robert Gardner, Nationwide's chief economist, says: "Given the challenging conditions prevailing in late 2011, with the UK economy contracting in the final three months of the year, it's not surprising that house price growth softened at the start of 2012.
"The demand/supply balance may move further in favour of buyers in the months ahead. The economy is not expected to gather much momentum until the second half of 2012 at the earliest, which suggests that labour market conditions and buyer sentiment may be slow to improve.
"Nevertheless, with the flow of properties coming on to the market still more of a trickle than a flood, house prices are likely to continue to move sideways or only modestly lower in the months ahead."
Gardner says the record low deals being offered by lenders as the Bank of England keeps the base rate at a historic low have made mortgages a little more affordable.
He explains: "Since 2007, initial mortgage payments as a percentage of take-home pay have fallen from 46% to 31% for a first-time buyer borrowing with a 20% deposit.
"Compared to take-home pay, initial mortgage payments are now at their lowest level since 2003, just above the long-run average of 29%."