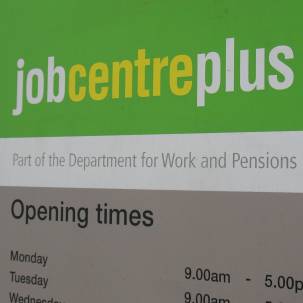 The UK's unemployment rate has reached a 16-year high after another rise in the jobless total.
The figure jumped by 48,000 in the three months to December to 2.67 million. Now 8.4% of the workforce is without a job, the worst figure since the end of 1995.
The number of people claiming Jobseeker's Allowance rose by 6,900 in January to 1.6 million, the 11th consecutive monthly increase.
Also last month, the number of women claiming the allowance increased by 1,500 to 531,700, the highest figure since the summer of 1995.
A record number of people are working part-time because they cannot find full-time jobs, up by 83,000 over the latest quarter to 1.35 million.
About 164,000 people were made redundant or took voluntary redundancy in the final quarter of last year, up by 17,000 from the three months to September.
Youth unemployment up
Other data from the Office for National Statistics showed a 22,000 increase in youth unemployment. Some 1.04 million people between 16 and 24 are out of work, including 307,000 in full-time education also looking for work.
The 48,000 increase in unemployment was the smallest quarterly rise since last summer.
Paul Kenny, general secretary of the GMB union, says: "Austerity means 2.67 million people are not working.
"As it is clear that austerity and deflation as a policy is not working, it is both surprising and shocking that there are so few demands from Tory backbenchers, from the CBI, from the City and from the Liberal and Labour parties that the policy be abandoned in favour of sure-fire ways of getting people back to work."
Meanwhile, average pay increased by 2% in the year to December, unchanged from the previous month, although public sector rises fell by 0.2% to 1.7%, the lowest figure since records began in 2001.